Retail trade fragmentary overshadowed by Covid-19 in March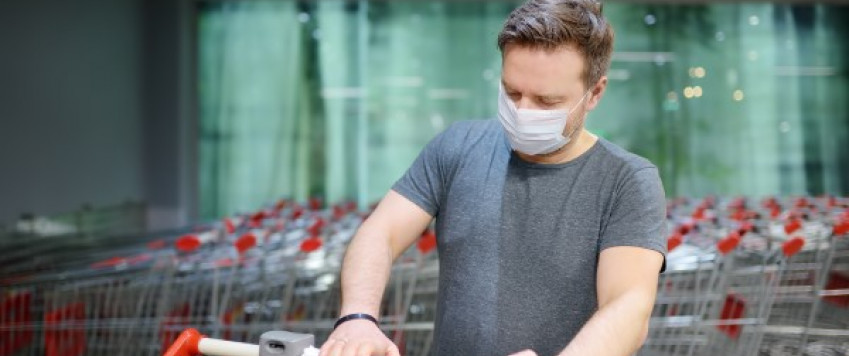 While Covid-19 containment measures made some sectors suspend their operation immediately and rapidly, they initially had mixed effects on retail trade. The mass media reported about stockpiling of food with long shelf life and increased purchasing of household articles. However, as consumers avoided trading venues and – due to the ongoing situation with Covid-19 – trade centres were closed on weekends and confidence (sentiment) deteriorated, trade activity declined. The data released by the Central Statistical Bureau for March already suggest that the development of the sector weakened, i.e. it stood at –5.9% compared to the previous period according to seasonally adjusted data; however, the next data will probably reveal a greater fall. 
The March data show that, with the population mainly staying at home, the shops primarily selling food and pharmaceutical products remained afloat. Meanwhile, turnover at constant prices followed a downward path in almost all other retail trade groups. In the meantime, despite the decline in fuel price, the sale of car fuel decreased due to gathering restrictions and the need for social distancing. 
Although social distancing supports online shopping and door-to-door deliveries, the data for March still suggest that internet and mail-order sales experienced a fall in turnover. This can be partly explained by the fact that a number of sellers were not ready to execute orders immediately due to their insufficient capacity. Likewise, not all traders have registered business at physical points of sale and online separately, therefore such sales might be recorded with other groups. 
Just three months earlier we spoke about a dynamic retail trade sector, but today, in addition to the existing challenges, the sector is facing a new and unprecedented challenge – the epidemiological crisis. Therefore, we can say that the situation is different this time around. This means that the prevailing high uncertainty concerning the evolution of the state of the art deteriorates the sentiment of market participants. The indicators for April just released by the European Commission suggest that the confidence of customers and retailers has decreased significantly, with retailers' operational prospects for the next three months affected particularly badly.
Even though savings and benefits, partially offsetting the fall in income, can help to maintain the consumption level in the short term, the high uncertainty and pessimistic consumer sentiment have an adverse effect on the consumption level. If the emergency situation continues and there are no clear signs pointing to the recovery of economic activity, the business and consumer sentiment may remain low for a longer time. This may, alongside with a drop in income, contribute to adopting more cautious spending habits and making precautionary savings. In such a scenario, the retail trade segments providing goods that are traditionally not considered basic necessities will take longer to recover.
x
Textual error
«… …»
Report error to the website editor