Latvia faces moderate wage rise
In accordance with our earlier predictions, a moderate rise in wages continues in Latvia: in the first quarter of 2012, the average gross full-time monthly salary increased by 3.7%. This could have been expected, analyzing the State Revenue Service data on the wage distribution in January and February 2012. 
Since the second half of last year, wage growth in the private sector was faster than in the public sector (in I Q 2012, 4.2% and 3.1% respectively). In some branches, wage y-o-y growth exceeded 5%: finance and insurance (7.6%), transport (6.3%), trade (5.5%), hotels and restaurants (5.2%).  
Although wage rise this year could be close to last year's indicator (4.4%), a lower inflation will ensure a more rapid rise in purchasing power (which will be supported also by higher employment). Given GDP flash data, it is possible to conclude that at the beginning of 2012, the rise in productivity outpaced the rise in real wages. The balance between wages and productivity thus was maintained (See Fig. 1). Under these conditions, salary rises can be sustained in the long term and do not exert a pressure on inflation. Even though in 2000-2003 salaries rose at a faster pace than now, they were outpaced by a rise in productivity, ensuring low and stable inflation (See Fig. 2).
Figure 1. Productivity and real wages index (I Q 2000 = 100; seasonally adjusted data); annual inflation in consumer prices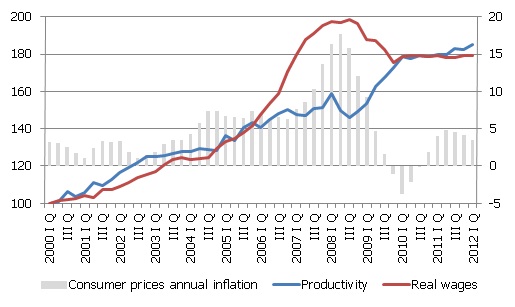 Figure 2. Annual growth rate of average monthly full time wages, % 
x
Textual error
«… …»
Report error to the website editor

Similar articles