The inflation forecast is revised upwards, but the annual rates to decelerate next year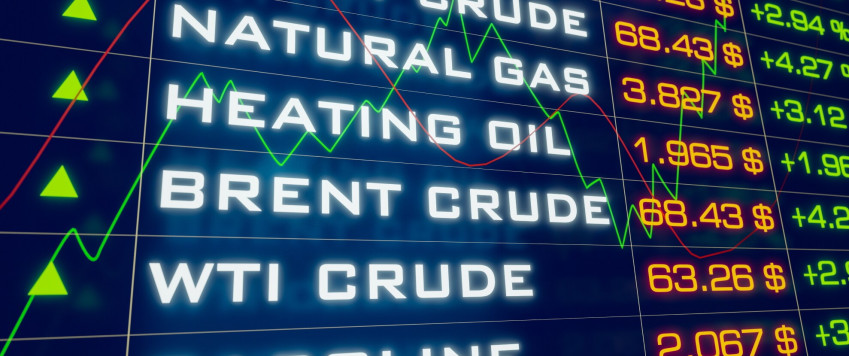 This year inflation has accelerated significantly, reaching unprecedented heights last seen during the financial crisis. According to our projections, the next year might witness the average inflation reach 6%, which might have a painful impact on a large number of consumers. However, despite the higher price level, the annual rates of inflation are expected to moderate significantly during the second half of 2022. This article looks into the drivers of currently high inflation and why we expect it to decline.
In short
Latvijas Banka has increased its inflation forecast for 2021 to 3.2% and for 2022 – to 6.1%;

Inflation has risen mainly due to global energy prices, but it has also been affected by increasing global food prices, supply-chain problems as well as the growing demand and producer costs driven by the rise in wages;

It is expected that the increase in energy prices will follow a downward path in the second half of 2022, reducing the upward pressure on inflation;

In the longer term, it is expected that the impact of energy prices will fade, and inflation will return to moderate levels (on average 2.9% in 2023 and 2.1% – in 2024).
An unusual increase in prices of all types of energy has substantially contributed to inflation
Soaring energy prices have continued to raise inflation, which was already an important concern for us previously, and forced Latvijas Banka to increase its inflation forecast. Prices of car fuel, natural gas, heat energy, electricity and solid fuels have followed an upward path (see Chart 1). These types of energy are substitutes to some extent, e.g. if the demand for natural gas is surging and it becomes more expensive, users switch to solid fuels thereby raising demand for them and their prices are also growing.
The rising energy prices have been a global phenomenon determined by various factors:
The rebound in economic activity following the lifting of Covid-19 restrictions contributed to energy demand, but its supply fell behind;
Some countries have changed their preferences in relation to a source of energy, e.g. China substituted coal with natural gas, exerting a pressure on natural gas prices;
Weather conditions, i.e. a hot summer (air conditioning) and a cold winter (heating), mean a higher energy consumption throughout the year;
Weather conditions have not been favourable for the generation of renewables, such as wind and hydro energy;
There were some restrictions of oil production and natural gas supply in the world.
Chart 1. Harmonised index of consumer prices (HICP) inflation by the key components and contribution of energy components to headline inflation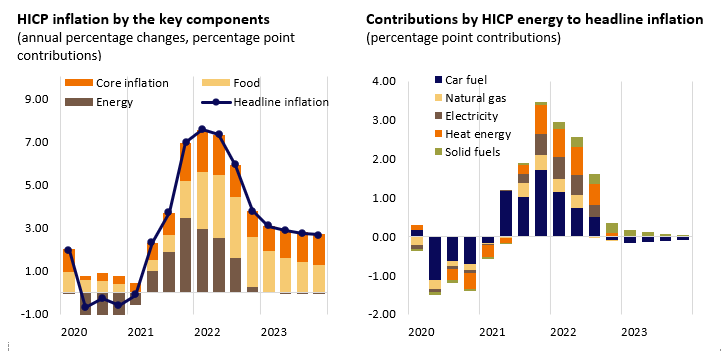 However, the effects of energy prices are expected to fade and bring headline inflation down. Recent trends in energy-producing countries to increase the production and supply (oil and natural gas) argue in favour of such a probable scenario. Potential recovery of renewable energy generation due to favourable weather conditions as well as stabilising demand could also make a small contribution. There is also a discussion in Latvia to reduce electricity distribution tariffs, which might add to a downward impact on consumer energy prices.
Oil supply will increase and oil prices will stabilise
Demand for oil products picked up as the world recovered from the first shocks of the pandemic and people actively resumed international travelling and everyday mobility. The high natural gas prices also added to the demand for crude oil owing to a partial substitution of energy resources.
Meanwhile, an increase in oil supply was restricted amid uncertainty of economic recovery after the pandemic and individual one-off factors that hindered oil production (e.g. maintenance and repairs of equipment). It is expected that during the course of the following year oil production in OPEC+ countries and the US might follow an upward path and the prices on futures suggest that the market anticipates deceleration in oil prices next year (see Chart 2).
 Chart 2. Global oil demand and supply and its futures prices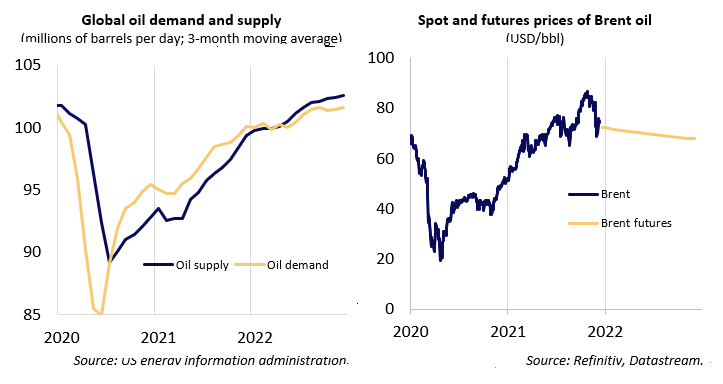 Natural gas and electricity prices are expected to normalise
A surge in natural gas and electricity prices owes to a rebound of global economic activity and also to the strong demand for these products in some Asian countries (particularly in China). The demand grew on account of both an increased need for energy (heating in winter and air conditioning in summer) and a change in preferences across various types of energy. The price of natural gas in Europe is affected both by a strong demand for natural gas in Asian countries and the difficulties associated with launching the Nord Stream 2 gas pipeline. Meanwhile, electricity prices in the Nordpool region are affected by rising prices of natural gas, other resources and CO2 emission allowances in Europe as well as by one-off factors – low renewable energy generation, low water inflow and electricity supply provided by neighbouring countries (Russia and Belarus). Global natural gas and electricity prices are expected to stabilise next year, and the effect of energy prices on inflation will decrease.
Chart 3. Natural gas and electricity prices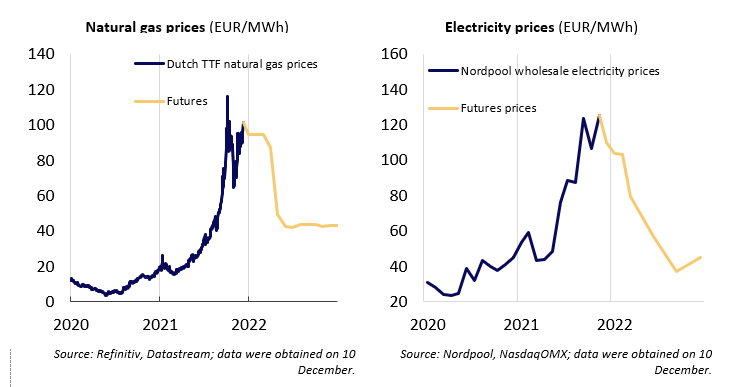 Inflation in Latvia has surged due to global energy prices. Next year, the increase in energy prices will follow a downward path in the second half of 2022, reducing the upward pressure on the inflation. In the longer term (from 2023 to 2024), headline inflation is expected to return to the level of 2%–3%. 
x
Textual error
«… …»
Report error to the website editor