Total currency in circulation down
The total money supply dropped in September, with the rapid drop in the demand for cash currency accompanied by a drop in corporate deposits. The bank loan portfolio shrank rather substantially, with the repayment of loans granted to businesses combining with the impact of writing off bad loans.
Money indicator M3, which reflects the amount of cash and non-cash currency in the economy dropped by 1.5% in September and its annual growth rate slowed to 1.0%. As the euro changeover date drew nearer, the amount of cash lats in circulation dropped more than in the previous month (by 54.7 mil. lats month-on-month), lagging behind the corresponding period last year by 19.7%. The drop in cash currency along with the drop in unemployment and rise in income promoted a rise in household deposits (for an eighth consecutive month). Yet this rise did not counteract the impact of the repayment of loans and of external demand dynamic on the level of business deposits – in September they dropped by 2.4%.
Illustration. The year-on-year changes in some money indicators (%)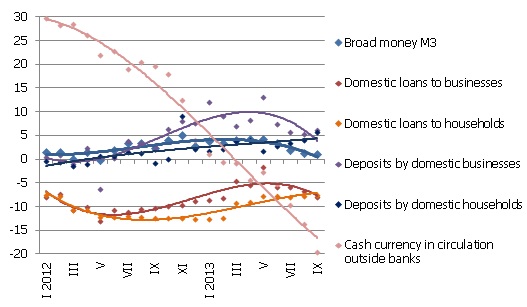 Source: Bank of Latvia
The drop in domestic loan balance in September was greater than in the previous two months because, with the housing loans contracting moderately (by 0.6%) and consumer loans even rising slightly (by 0.5%), the balance of loans granted to businesses dropped substantially (by 1.3%). As a result, the overall rate of loan reduction reached 7.6%.
In the next few months, the rate of annual change in money supply will be close to zero, which, in the conditions of weak external demand, could be impacted by the drop in enterprise deposits as a result of reduced export revenue. The demand for cash currency will drop rapidly, with the lats cash currency making it to the bank accounts and being converted in cash foreign currency. The situation in Latvia is thus to be considered favourable to a smooth euro changeover in regard to cash currency. Since this process has been gradually taking place all year, there will be less chance of sudden jamming in the money exchange process at the end of the year, since a substantial part of the cash lats will have already returned to the banks.  No sea-change is expected in lending as yet: the contracted lending cycle will continue in 2014 as well.
x
Textual error
«… …»
Report error to the website editor

Similar articles