Three reasons why food retail prices are rising much slower than global prices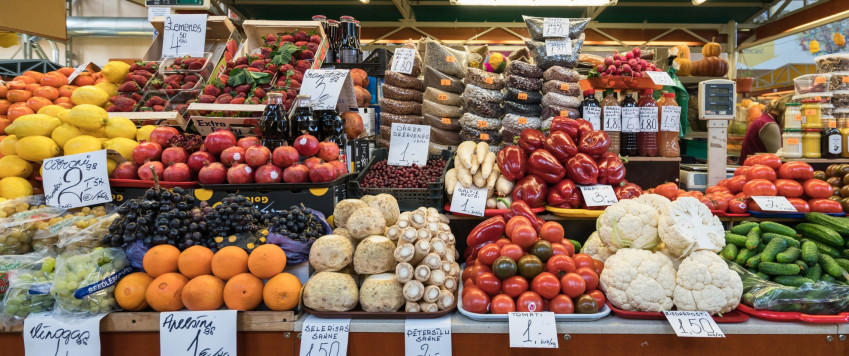 Global food prices have been rising steadily since the middle of 2020 and are now at their highest level in seven years. However, no significant changes in food consumer prices have been observed so far. In March 2021, consumer prices of food were similar to those recorded a year ago (more precisely, they decreased by 0.4%). Why is this happening?
Global prices of food commodities affect food consumer prices with a lag of several months, and they constitute only a limited share of the total costs associated with preparing finished food products.  Thus, a rise in global cereal prices by one third is likely to increase the price of a loaf of white bread by five cents in six months (less than the usual price fluctuations due to various sales promotions).
Global food commodity prices are rising for several reasons
Global prices of food commodities have been rising for ten consecutive months. Cereal prices soared, reflecting both strong demand from importing countries such as China and lower exports from Russia (an export tax was introduced to curb the increase in food prices on the domestic market). The global cereal harvest has been relatively good; nonetheless, prices were driven higher by a greater desire to build up the stock of cereal in anticipation of potential supply disruptions due to the pandemic. Global price increases were also recorded for dairy products due to strong demand from China and Western Europe as well as for meat on account of high demand during the avian influenza outbreaks in some European countries and the resurgence of the swine flu in China. The rise in sugar prices reflects the recovery in oil prices in recent months which has led to an increase in the production of ethanol instead of sugar.
The three reasons why food consumer prices in Latvia are lagging behind global food commodity prices are listed below.
1. Food commodities hardly constitute a lion's share in the total costs of finished food products
The price of finished food products is also significantly affected by labour costs as well as prices of fuel, electricity, storage and packaging. For example, the farm gate price of milk is three times lower than the price of pasteurized milk on a retail store shelf. In the same way, it might seem paradoxical that the price of grain accounts for only a small share of the total cost in the bread-baking industry. Due to the pandemic crisis, the growth rate of labour costs moderated significantly and energy prices declined, thus largely offsetting the impact of the rising global food commodity prices on food costs.
2. Global prices of food commodities have a delayed impact on food consumer prices
Even if the global price of grain suddenly doubled, the retail price of bread would be unlikely to change immediately. First, the grain (flour) used for baking bread has been purchased in advance, i.e. at the previous (lower) price. Second, product delivery prices for a certain period are also fixed. Some food commodities and even finished food products can have quite a long expiry date. In such cases, the lag between the changes in global food commodity prices and those in retail prices is particularly substantial. For instance, the results of Latvijas Banka Working Paper No. 1/2020 imply that half of the pass-through of global sugar price changes to retail sugar prices in Latvia usually takes place within eight months, whereas the full transmission may take up to two years. If the dynamics of global sugar prices change in the opposite direction during this period, we will never see the full transmission to the price tags in our department stores.
In the case of grain, milk or meat, the pass-through tends to be faster, but it can also take a few months. Thus, even if the rise in global food prices proves to be sustainable, retail food prices will grow only gradually.
3. Fiercer competition among retailers have a downward impact on food consumer prices
In recent months, food consumer prices in Latvia have been growing at a slightly slower pace than it might have been expected, given the dynamics of global food commodity prices and their lagged impact on food consumer prices. The reason for this could be the gradual entry of Lidl  and Mere retail giants into Latvia, which would mean fiercer competition among retail chains and, thus, also a lower mark-up. It may have been the case that some retailers reduced their consumer prices even before the new entrants expanded, thus trying to limit their ambitions to expand in the Latvian market.
The opinion was published on the portal nozare.lv
x
Textual error
«… …»
Report error to the website editor