Selling in international markets up, while the domestic market is slumping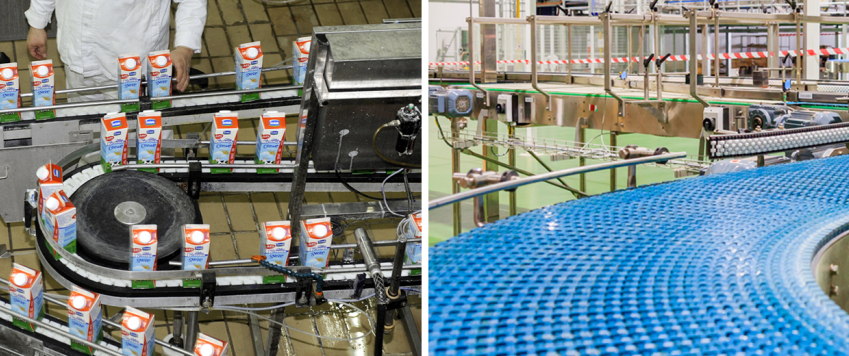 The fourth quarter of 2021 saw a minor increase in the real output of manufacturing, whereas the respective turnover expanded much more significantly on account of higher prices. This time, the first thing that springs to mind when we think about the turnover is a comparison with the average temperature in a hospital, as its overall growth masks two entirely opposite trends: a fall in the domestic market and a further rise in revenue from selling in international markets. 

The slump observed in the domestic market is most likely associated with the tightening of restrictions in October and November which had a downward effect on trade overall, including on the demand for domestic products. With the easing of restrictions, selling opportunities improved and manufacturers were also able to increase their output in December. Alas, their path was crossed by another black cat, namely, the vaccination requirements in workplaces and rising Covid-19 infections (including the restrictions imposed on contact persons). Because of these aspects, manufacturers encountered new challenges in keeping their production running, when finding buyers was easy, but having enough workers to deliver the output was not. All that came on top of the already pre-known nice set of problems significantly affecting the production, namely, the persistent global supply chain disruptions and increases in all types of costs.
The challenges we are facing at the beginning of 2022 are immense: sky-rocketing energy prices, increasingly larger numbers of employees off-work because of the omicron variant. The end of the virus season, if not the complete surrender of Covid-19, is probably much awaited by all manufacturers alike, even the ones producing disinfectants, food supplements and other goods in a high demand during the pandemic.
Chart 1. Manufacturing output (volume index) and turnover (2019=100%)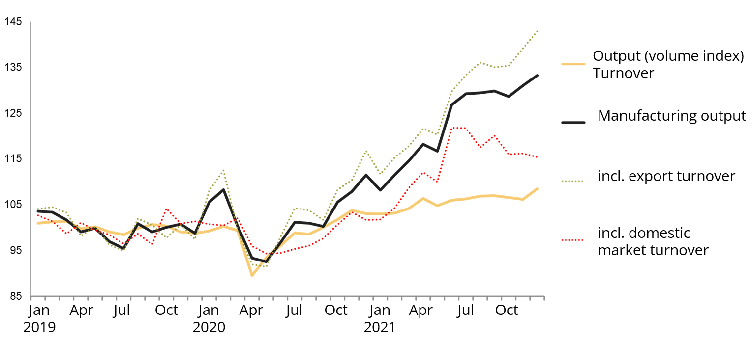 x
Textual error
«… …»
Report error to the website editor

Similar articles