Retail trade does its best and bounces back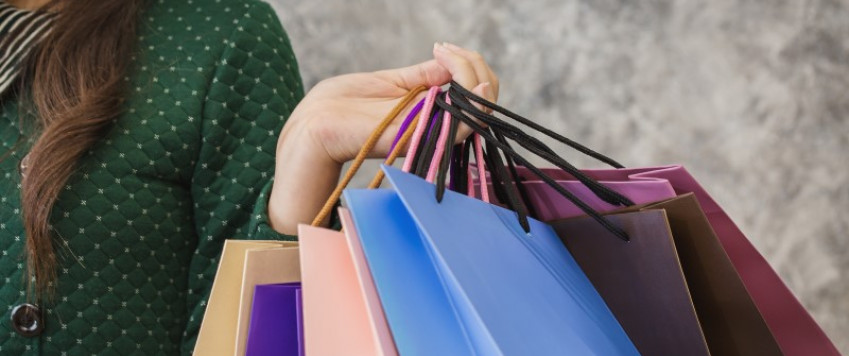 Retail trade is one of the sectors having seen uneven development in the second quarter of 2020, i.e. experiencing both signs of minimalism and renaissance.
The word "minimalism" could be used to refer to the time period when on weekends and holidays only the shops selling essential consumer goods were open in the shopping centres; at the same time, the consumer sentiment was low, whereas uncertainty about further development of the pandemic and the related economic activity opportunities was high. As to renaissance, a certain sectoral rebirth has been marked by retail trade data published by the Central Statistical Bureau of Latvia (CSB) for May and now also for June: they suggest that the level of retail trade turnover gradually moves closer to that observed before the COVID-19 crisis. Along with the recovery of the sector's activity, it has also retained its dynamics.
According to CSB data, in June the retail trade turnover in constant prices (adjusted data) increased by 4.6% both month-on-month and year-on-year, thus rapidly approaching the turnover level seen in February, i.e. a high since the beginning of 2019 (see the Chart). However, it is a bit too early yet to speak about return to a sustainable growth trend. The need for increased cautiousness due to COVID-19 persists and may affect spending habits. In June, a certain degree of cautiousness can be observed, for example, in retail trade of housing-related goods, while the seasonal needs have been the driving factor allowing the sale of clothing to recover notably But only July and August data will show whether the money not spent on holiday travel will have been increasingly invested in housing improvement and repairs. 
Retail trade dynamics persists not only in terms of further development of shopping venues and new market participants entering the market, but is also reflected in other forms. In some cases it is obvious that trading premises previously occupied by some retailers are empty now or other businesses have replaced them. Also temporary phenomena have been observed during the second quarter. We have now some facts backing the early assumptions as to how long-lasting teleworking and online sales might be. Not only data for May, but also those for June suggest that retail sale via mail order houses or via Internet have not registered further increase since April. With the opportunities to shop in stores expanding, the general public has partly returned to its usual shopping habits, although the distance sales volumes are still higher than in the first quarter (see the Chart).
Chart. Change in retail trade turnover, January 2019 = 100 %, s.a.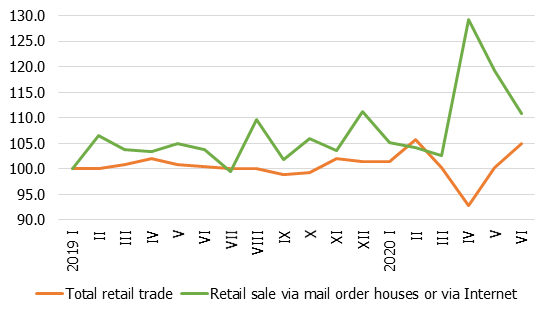 x
Textual error
«… …»
Report error to the website editor

Similar articles