Productivity increase and inflation drop raises purchasing power of wages
The purchasing power of the average salary continued to rise in the third quarter, increasing 1.9% year-on-year. CSB data indicate that the average salary in nominal terms grew by 3.6% y-o-y, i.e. not one iota faster than during the first half of the year.  Salary dynamics can thus be considered stable (See Fig.) and matches our previous predictions. The rise in wage purchasing power can be mostly accounted for by the dropping inflation: the rise in consumer good prices that amounted to 4.5% a year ago, dropped to 1.7%  in the third quarter of this year.
In the public sector, the rise in salary has been relatively more rapid (5.2%) speeding up slightly during the quarter, which is partly related to the rise in teachers' salaries as of 1 September of this year. In the private sector, on the other hand, salary rises have slowed down (2.8%), apparently impacted by a substantial rise in employment in the third quarter: the salaries of newly hired employees could be lower than the company average. Overall, salary rises go hand in hand with productivity growth, thus preventing any worries about price stability. In 2013, salary rises could speed up slightly based on increased productivity.  Sustained rises in productivity provide the foundation for a sustainable rises in salaries that do not have a negative effect on competitiveness as observed as from the beginning of 2010. The adjustment that took place previously had already consumed the unsustainable (departed from productivity) part of salary rises and provided the necessary foundation for regaining competitiveness and rise in employment. Note that even though there are shortages of labour in several branches of the economy, they involve highly qualified employees and thus are not expressed in an overall rise in salaries that would outpace productivity.  
Gross average monthly salary (full time), LVL (seasonally adjusted data)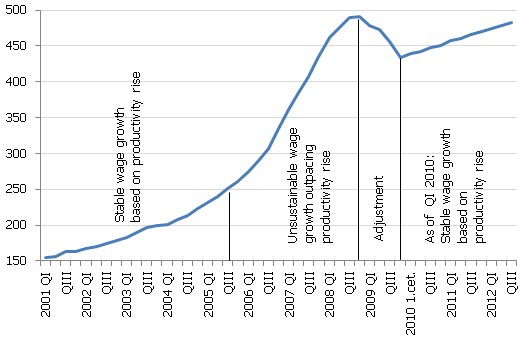 Source: CSB data, author's calculations 
x
Textual error
«… …»
Report error to the website editor

Similar articles