Producer prices stable in July
The overall month-on-month changes in industrial prices in July were rather negligible  (a drop of 0.1%). The stability of producer prices was primarily ensured by their drop for the exported production in several branches (for example, the manufacturing of computers, and electronic and optical equipment as well as waste processing), which helped producers to maintain cost competitiveness.
Illustration. The rate of producer price increase in industry, %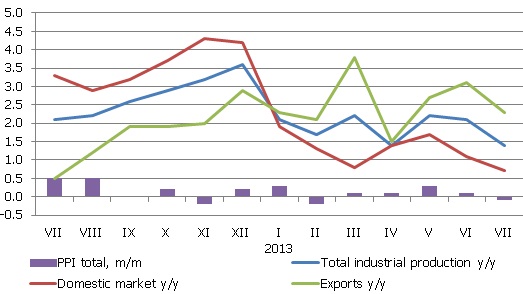 Source: CSD data
Since in July 2012 there was a rather significant rise in the prices of energy producers, the relatively insignificant rise in prices in this branch in July of this year resulted in the most important impact on the drop in the rate of producer price year-on-year growth as a result of so-called base factors.  
At the same time, the small rise in producer prices in the energy and air conditioning branch for the production sold domestically has possibly served as a cost pressure on other branches. For instance, despite the drop in the prices of several important goods in the global market (wheat, dairy products, and several kinds of wood pulp products) their impact was not observed in producer prices in the Latvian market.
In July, producer prices in manufacturing rose at a faster rate in branches not related to food production (e.g., the production of wood pulp and wearing apparel). But in the production of food products, despite the stabilization of dairy product prices in the global market in previous months, the risk of price rises still exists, for the supply of agricultural goods (e.g., in dairy industry) is not possible to suddenly increase or renew.
A balanced development of the Latvian economy is still beneficial for producer price stability. However, as uncertainty remains regarding the future development of the energy market (e.g. how energy producers will be able to reallocate the production volumes and costs between the production of electrical energy and thermal energy), so does uncertainty regarding prices in energy production and their transfer to costs in other branches.
x
Textual error
«… …»
Report error to the website editor

Similar articles