Producer price dynamic in May benefits Latvian competitiveness
In May of this year the producer price dynamic was beneficial from the point of view of Latvia's competitiveness: a symmetrical month-on-month drop of 0.4% in producer prices has been observed both for the production for the domestic market and for exports, moreover, the drop in producer prices was greater than in Latvia's main trading partners, Lithuania (-0.2% both in industry at large and export products) and Estonia (0% industry at large). The rate of annual growth of producer prices also dropped substantially, to 2.6%, as a result of both base factors and price changes in May of this year.
Fig 1. Changes in the producer price index (%)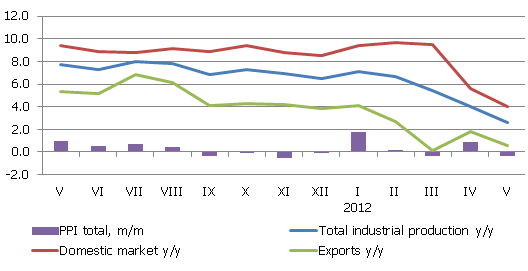 Global energy resource and food prices contributed greatly to the drop in producer prices, and that was reflected in energy production, metal production (which is energy-intensive) and food industry.  Since Latvia's energy intensity is higher (the same amount of energy produces less added value) than in most EU countries, the component of energy costs is essential and the drop in energy resource prices may create a greater impact on the drop in producer prices than in other countries. The possibilities of changing the influence of this factor on the domestic consumer price level in a short time are limited, yet it must be noted that at the beginning of this year, the impact of domestic factors on competitiveness was beneficial: the data available on unit labour costs indicate them dropping in the first quarter both in industry at large and in manufacturing that is more tied to exports.
x
Textual error
«… …»
Report error to the website editor

Similar articles