Low global demand limits producer price increases in October
Compared to the previous month, the producer prices in industry remained unchanged in October. Indirectly, it is a reflection of the low global demand that has an impact also on the development of resource prices. A reducing effect on the total producer price index was had primarily by producer price changes in energy production as the sales price of natural gas went down. This fact had a substantial effect also on the differences in the monthly price changes of production sold in the domestic market and exported production.
A rise in producer prices in food production was limited by the global drop in food prices, including those of grain, for a good harvest was the case in many places (e.g., in Russia an Ukraine). It did not find a reflection in reduced food industry producer prices, however, particularly with regard to production sold in the domestic market. Such price dynamics may reflect a delay in adding on increased costs to prices despite the current drop in the prices of several resources and raw materials.
The annual rate of producer price increases grew in October to 7.3%, reflecting the so-called base effect: in October of last year a substantially greater month-on-month drop in producer prices of energy produced for domestic consumption and water and refuse management was observed.
Ill. Contribution of changes in producer prices of some branches of industry in the total monthly rise of producer prices, percentage points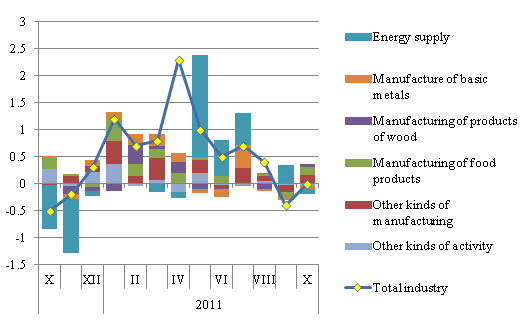 Source: LR Central Statistical Bureau, Bank of Latvia's calculations
Albeit the oil prices will not grow as rapidly in the near future, they will remain at a high level because of the limited supply. Global demand, whose growth prospects are currently very weak, will remain as a price-limiting factor. Even though the actual price of heavy oil has been dropping over the past few months and is stabilizing, the growth trend of the 9-month average indicator remains and "Latvijas Gāze" is predicting a rather substantial rise in tariffs of natural gas for industrial consumers at the beginning of 2012. A small pressure on the producer price index domestically may also be caused by a possible gradual lack of labour in some professions or emigration of labour.
x
Textual error
«… …»
Report error to the website editor

Similar articles