Latvian producer price growth impeded under oil market impact
In September 2012, the producer prices in Latvia remained unchanged because the main cost components – energy costs and the global prices of several raw materials (food, metals) did not rise substantially.
The monthly upward changes in producer prices were primarily determined by the appreciation of the production costs of products oriented toward the domestic market, e.g., wood pulp and rubber products. In contrast to previous months, energy production affected the producer price index in the opposite direction, i.e. downward.
Contribution by branch to the monthly rise in producer prices (for the domestic market)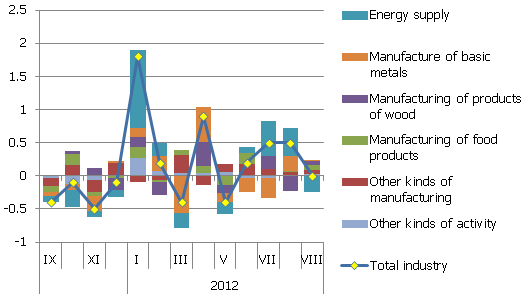 Source: CSB
In several branches, however, producer prices rose also for goods produced for the external market. The greatest impact was from foodstuffs production, computer production and especially from printing and publishing and reproduction of recordings (great monthly price fluctuations are characteristic of this branch, possibly affected by the specific range of products).
Since overall the manufacturing of exported products became somewhat cheaper (by 0.2%), and no price reduction has been registered for the three large groups of branches, it invites the conclusion that it was energy production determined the drop in producer prices also for the export market.
Year-on-year, the most important contribution (in the breakdown by big branch) was still made by energy production. It is a branch that depends on the external market and is oriented toward the domestic one, having an important impact on the consumer price level. Overall, the impact of global food and energy resource prices on producer prices has dropped substantially since the beginning of the year  (the annual rate of producer price rises dropped from 7.1% to 2.6%) and the stabilizing of global prices does not create a pressure on producer costs and inflation.
For several weeks now, the level of global oil prices is characterized by less fluctuation than for instance at the beginning of the year. There are no pronounced trends of increase or decrease. In relation to the developments in the oil market, Latvijas Gāze has sketched in unchanged tariffs for the coming months in its latest publication of predicted tariffs. That will help at least some thermal energy providers to leave the cost levels and heating tariffs unchanged.
x
Textual error
«… …»
Report error to the website editor

Similar articles