Healthy growth, but caution required to avoid limping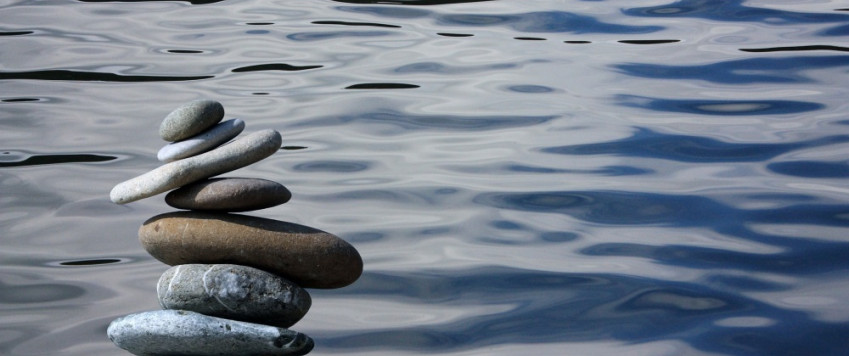 Contrary to the weakening observed in the previous year, Latvia's economy is growing at quite a healthy rate now, which, on the one hand, is, indeed, a prerequisite for improving welfare.
Yet, on the other hand, alongside with positive developments like larger investment and increasing purchasing power in annual terms, individual signs of imbalances have also emerged, as shortage of labour is increasingly often mentioned as a growth restricting factor by businesses. This points to an upward pressure on wages and prices that can have a negative effect on competitiveness. Weaker competitiveness means that the currently achieved growth could turn out to be unsustainable in the medium term.
The third quarter economic growth data by the Central Statistical Bureau of Latvia (CSB) coincide with the flash estimate: 6.2% y-o-y in seasonally adjusted terms. This year most sectors are performing better in comparison with the previous year. Following the last year's slump, construction is developing at a particularly high rate, yet it is difficult to work magic, given the current labour supply.
Of the open vacancies registered with the State Employment Agency, approximately one fourth is comprised of various jobs in the sectors of trade, construction and real estate development. These sectors could experience an even higher demand for labour in the near-term, thereby sustaining an upward pressure on wages. Moreover, the government's decision on the size of the minimum wage raise was not prompted by the ability of businesses to achieve an equal rise in their productivity, yet it continues to support consumption in addition to the personal income tax cuts.
All this reveals that it is the supply side which is the "dodgy leg" of the economic development. Hence more effort should be invested in its strengthening to maintain competitiveness and the momentum of economic development. On the expenditure side, investment has taken over the lead from private consumption as the driver of the economy. Nevertheless, even with a 20% rise and an increase in its share to GDP to about 20%, it remains at a historically low level.
Although investment can be expected to grow, its composition is also important. Quite recently, the data for the first half of the year showed a further decline of investment in machinery and equipment. This worsens, for example, the starting positions for the goods exporting sectors.
Exports of Latvian goods and services continue to expand, yet the annual growth is decelerating. Sustainable growth in Latvia's main trade partners and the rising global prices have supported a further increase in the value of Latvia's exports. Moreover, international institutions have upgraded their latest economic growth forecasts. This inspires hope with regard to the development of exports; nevertheless, improving the cost competitiveness remains equally important.
Although at the moment the contribution of the growing investment to GDP growth is already higher than that of private consumption, private consumption also steadily remains on an upward track. We can pick up the first indications as to how it is going to develop further from today's publication of the data on retail trade in October, showing that about 2/5 of the annual increase is still attributable to purchases relating to household goods. This suggests that households can afford more. Overall, retail trade reports higher growth than last year, yet it remains below the general economic growth and that of private consumption.  This could suggest higher consumption of services or a build-up of savings. That would normally point to a stable increase in income: the third-quarter data on wages show that their annual growth remains high despite a deceleration from 8.7% to 7.5% in the third quarter, whereas the increase in purchasing power (the increase in net real wage) stands at 3.7%.
In order to avoid a situation where Latvia's economic development starts looking like a kettle of milk left unattended on a burning stove, we have to remember to keep an eye on it to achieve the intended result and spot any emerging imbalances. 
GDP growth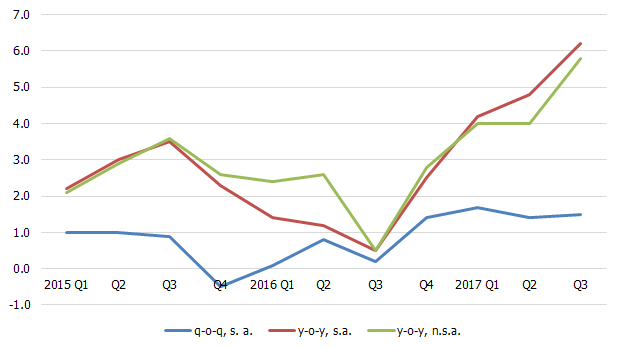 x
Textual error
«… …»
Report error to the website editor