Green gold and the economy of Latvia: the crisis and opportunities
Despite the cardinal changes affecting the contribution of forestry and manufacturing of wood and articles of wood to the growth of the Latvian economy and its exporting capacity in the last decade, wood is still often referred to as the main export commodity, and as such deserves particular attention. It has often been stated that wood is Latvia's green gold: today, is it only a myth or still a reality? If it is a myth, in whose interests is it kept up? What is the place the wood industry takes in the overall economic scenery of Latvia?
Chart 1 shows that sectors closer related to forestry and wood (except manufacture of furniture) contribute between 3% and 5% to total value added in the economy, with a gradual downward trend over several years.
Chart 1. Contribution of individual sectors to total value added in Latvia (%, current prices). Source: CSB.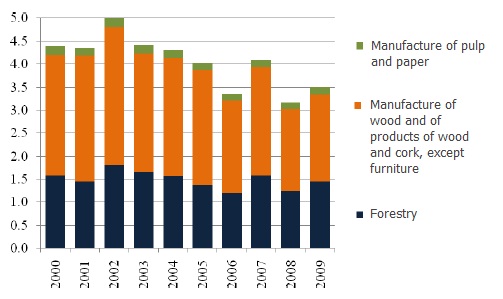 In this connection, the following question arises: how come that a sector contributing a rather small share to total value added is still predominating over Latvia's exports (see Chart 2)? In 2009, wood and articles of wood accounted for 16% or around 560 million lats in the total exports of goods worth 3.5 billion lats.
Chart 2. Wood products as percent of Latvia's total exports. Source: CSB.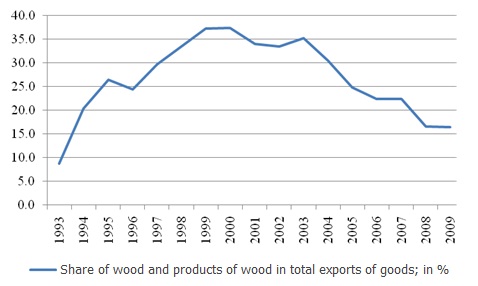 In the 1990s when the Latvian industry was rather subdued, foreign markets lost or not yet open for companies of many sectors, and resources and technologies costly, forests were looked upon as a way out: the available domestic resources (wood and labour) and the open market led to swift financial gains in a short term. In the market, prices fluctuated from time to time, yet the overall trend was little affected in short run. Over time however, overall exports expanded buoyantly due to rising investment in other industrial sectors and the evolving trade contacts (particularly so after the EU accession), while the export share of wood contracted rapidly. So where is the problem? Is it associated with value added? What is this "mysterious" value added and how is it formed?
To put it simply, value added captures that part of commodity or service value which is produced in a certain sector. It should immediately be noted that a large share of the final output value is often produced by a sector other than the respective commodity-producing one. In particular, it is typical of technology-intensive and resources-intensive sectors, with the output value resulting from an innovation of one branch, equipment produced by another, raw materials supplied by a third, semi-manufactured goods of a fourth, etc. In such a way, a large "mass" of the so-called intermediate consumption and an impressive share of costs, and prices accordingly, build up and do not always capture the contribution of the producing sector, for this "mass" quite often also includes imported resources and equipment.
Manufacturing, including wood industry, is one of such sectors. In Latvia, 71.6% of the output value in manufacturing and 73% in wood production are associated with the so-called intermediate consumption; hence value added is below 30% (Eurostat data for 2009). This, however, is not an unwelcome national feature of Latvia: in the EU countries, value added in manufacturing accounts for 23%-35% of the output value (Eurostat data for 2009). Thus, Latvia's indicators are almost in line with the EU averages. Then, what are those low value added exports and output due to which the wood industry is subject to quite severe criticism, often worded like "exporting only logs"? Notably since 2000, around 2/3 of Latvia's wood output sales were exports, and currently due to weak domestic demand exports are slightly in excess of 70%, pointing to export-oriented production.
Two things should be considered here in the context of sector competitiveness. The first relates to output diversity: more complex, specific and at the same time highly-demanded products will make higher profit in absolute terms even if the proportion between intermediate consumption and value added remains unchanged. The other is connected with labour productivity or the share of value added that one employed person can produce.
In terms of value added, the comparison of different countries varies. In Latvia, one worker in the wood industry produces by 30% less value than one employee in the national economy on average; the value produced by one worker in forestry is approximately on par with per capita average value in the economy. It is interesting to note that in Finland forestry and logging are branches in which productivity is among the highest in breakdown by sector: it is twice as high as in the economy on average, yet lagging behind such branches as production of energy resources and financial intermediation.
On the other hand, the fact that Latvia slightly outpaces Finland in terms of the above indicator relating productivity in wood industry and the entire economy is no praise at all since a person employed in the production of wood in Finland creates three times larger income in absolute terms than in Latvia. This brings us to the "mysterious" value added back again and not only with regard to the industry in question but the economy in general: it is the volume of investment and accumulated capital and the sector structure that boost the overall public income level which, in turn, is an underpinning factor for a higher payment to farmers, teachers, and officials depending on their productivity.
Can and shall Latvia's wood industry strive for a rebound to a former high of almost 40% in total exports? Large sectors which are substantially affected by economic cycles and global price fluctuations are likewise always exposed to stronger upward risks. A crisis mirrors explicitly which goods, their purchase and consumption, can be postponed to a later day... In the time of the recent crisis, the falling value of Latvia's wood exports was definitely a result of price drops in the global markets, also a result of weaker demand. Hence the ability to adjust to changes in the market situation is extremely important. In Latvia, the adjustment capacity of forestry and wood industry is supported by the availability of needed resources, i.e. labour and natural resources, and diversification of output. This is confirmed by the changes in export structure which resulted from the crisis: before the crisis, exports of wood and articles of wood were dominated by a variety of building-related materials and products in large amounts, while during the crisis, when the demand weakened, output contracted, and the total value of wood exports declined, the share of wood used as fuel grew. To some extent, it was a way out, yet profit making was rather limited. At this junction, wood product exports progressively tend to return to their pre-crisis structure, i.e. favoured use of the wood product types other than fuel wood. The production of wood products, on the other hand, presently records a gradual rise in investment, which is likely to spur diversification of output and boost the output value by effectively using the domestic resources and turning them into an efficient source for income growth in the economy.
It is pleasing that many Latvian companies, whose core business is related to forestry and manufacture of wood and articles of wood (including also furniture which belongs to another sector), have successfully survived the crisis, this year are already expanding their turnover, have started to earn more money or are increasing their profits. Such companies as Latvijas Valsts meži, Latvijas Finieris, Valmieras mēbeles and other can boast of good performance indicators. The sector can operate more flexibly and adjust to various economic conditions easier if the resources are at hand. Latvia abounds in wood and forests, and they must be used expediently.
---
This article was published by Delfi on 26 October 2010.
x
Textual error
«… …»
Report error to the website editor

Similar articles