Global price shifts push down producer prices
Stabilisation and even a drop in global prices has notably affected the price and cost trends in Latvia. In September, for the first time in the last ten months, producer prices posted an overall month-on-month decrease of 0.4%. Prices mostly fell on account of shrinking producer prices of exported goods (0.9%); prices of goods sold on the domestic market edged down by 0.1% over the month. The annual rate of increase in producer prices continued on a downward trend, down to 6.8% in September.
Moderating cost increases were seen in the major sectors of manufacturing. Over a month, prices fell in the manufacture of food products, basic metals and chemical products. Producer prices recorded a drop only for products of wood manufactured for exports, on account of the weak growth in the major export markets. The recent pick-up in energy costs that started in April and was affected by the rise in the global energy prices last year and at the beginning of this year, still prevent prices in the overall industrial sector from decreasing.
Monthly change in PPI by sector, in percentage points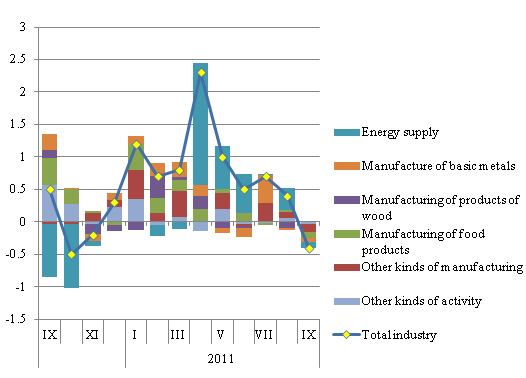 Source: CSB, Bank of Latvia estimates
The decline in producer prices should soon be reflected in the retail trade as well. The impact of global trends on price dynamics in Latvia will remain strong as the costs of the raw materials subject to the global price fluctuations account for a considerable share of production costs, in particular for products with lower value added. Although the global price rise pressures have eased due to weaker growth, the uncertainty related to the supply developments continues to maintain both food and energy prices at relatively high levels. To mention some of the developments affecting the global supply of goods in October: flood in Asia which has pushed up rice prices and the fact that Libya has resumed its exports of natural gas, giving rise to hopes that oil deliveries will also follow suit soon. That, in turn, would further ease the pressure on oil prices.
x
Textual error
«… …»
Report error to the website editor

Similar articles