"First shift" of manufacturing subsectors getting tired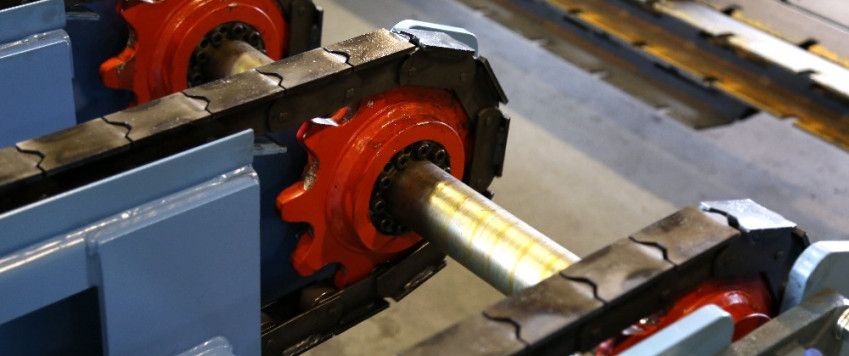 In the circumstances of weakening external and domestic demand, manufacturers continue with their attempts at conquering export markets and the hearts of local consumers.
The future prospects, however, remain uncertain: industrial sentiment has been volatile, with waves of optimism being followed by those of scepticism. The same is true also of the current external and domestic environment, with Latvia's economy being propelled back and forth across the rink like a hockey puck by various developments (for more detail, see Daina Paula's commentary on GDP flash estimate for the fourth quarter of 2019).
What exactly is happening with the industrial sentiment? On the one hand, there is a confirmation of the story of progressively weakening external and domestic demand, with industrial capacity utilisation continuing to decline and the outlook for export orders being relatively subdued. On the other hand, the industrial sentiment has, quite surprisingly, shown some improvement over the most recent months. Moreover, in January data the outlook for output over the coming months has almost returned to the level of the so-called fat years. One must admit that this seems to be too optimistic at the moment and could rather turn out to be a short-lived spoiler of statistics, but you never know.
Meanwhile, let's return to the latest data on manufacturing output volumes. The prospects of the sector seemed clouded already judging from the previous pessimistic projections of the representatives of the wood industry, the biggest manufacturing subsector, and, alas, there is nothing spectacular in store for the next year either. European spruce bark beetle is most likely sound asleep in the comfort of this mild winter and therefore ready to continue causing damage to forests this year. The situation in Latvia is slightly better than elsewhere in Europe (particularly, Czechia and Germany) though, and we have developed certain skills to fight the beetle during the previous infestation episodes. Yet the overall status of the sector is affected by the developments in the whole region: abundant supply and low prices in Europe impose rules of the game on Latvia's forest industry as well, being hit by this unwelcome visitor even harder.
Anyway, the poor performance of the wood industry was not even the biggest disappointment: previously robustly growing high technology and fabricated metal product industries are also decelerating. Manufacture of food products remains persistently weak. Consequently, there are hardly any strong players left on the substitutes' bench, which does not inspire much hope for this year's results.
Volume indices of manufacturing subsectors in the fourth quarter of 2019 (year-on-year; %; output weights; %)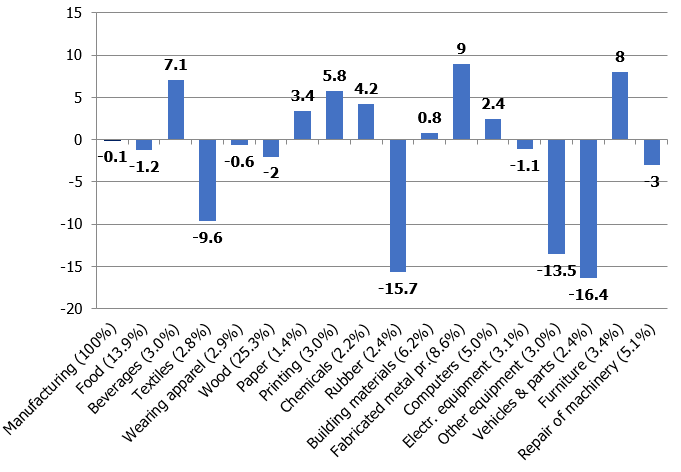 x
Textual error
«… …»
Report error to the website editor

Similar articles