Eurosystem's monetary policy: Expanded Asset Purchase Programme
For Latvijas Banka Monthly Newsletter, In Focus, May
The objective of Eurosystem's monetary policy is to maintain price stability defined as a year-on-year increase in the Harmonised Index of Consumer Prices (HICP) for the euro area of below, but close to, 2% over the medium term. In 2014, the euro area HICP was below 1% and approached 0%, creating a risk of a too prolonged period of a very low inflation. After reaching the zero lower bound on interest rates, the ECB responded by announcing unconventional monetary policy measures. At the end of 2014, the Eurosystem launched three programmes: the third covered bond purchase programme (CBPP3), asset-backed securities purchase programme (ABSPP) and targeted longer-term refinancing operations (TLTRO). However, all these programmes were niche programmes with relatively small volumes compared to the ECB's balance sheet. When the euro area HICP became negative (–0.2%) in December 2014, a large scale programme appeared to be essential for supporting effective transmission of monetary policy decisions to the financial system, the real economy and inflation.
In January, the ECB Governing Council decided to start the expanded asset purchase programme (EAPP) consisting of CBPP3 and ABSPP, which were both launched late last year, and a new programme – the public sector purchase programme (PSPP). EAPP is intended to last from March 2015 till September 2016 or in any case until the Governing Council sees a sustained adjustment in the path of inflation that is consistent with its aim of achieving inflation rates below, but close to, 2% over the medium term. EAPP monthly purchases will amount to 60 billion euro, PSPP being the core programme. Volumes of each programme separately were not announced and the amount for PSPP will be determined by the success of CBPP3 and ABSPP. Assets under PSPP will be purchased by the ECB (8% of PSPP) and all national central banks (NCB) according to the capital key. The latter will buy home country government sector bonds and international institutions' bonds issued by euro area residents and denominated in euro. The maturity of PSPP bonds will be between 2 and 30 years. There is a 25% issue limit and a 33% issuer limit on outstanding securities to be bought.
EAPP will work through the direct price effect channel by reducing credit and bond interest rates; portfolio rebalancing (reducing other financial asset yields); and the signalling effect which could be felt already before the launch of PSPP in the form of increasing confidence and reducing interest rates.   
Latvijas Banka will participate in PSPP, but not in CBPP3 and ABSPP as no eligible covered bonds and asset backed securities are issued in Latvia. In March and April 2015, Latvijas Banka purchased securities issued by the Latvian government and international organisations located in the euro area amounting to 354.8 million euro (according to the balance sheet of Latvijas Banka). The Latvian government debt consists not only of euro denominated bonds, but also of USD denominated bonds and European Commission and World Bank credit, which reduce eligible bonds under PSPP. Assuming that Latvia will issue eurobonds this year and applying issue limits, the available amount of bonds for PSPP purchases will reach 1 billion euro. Since the main holders of Latvian bonds issued abroad are foreigners, the positive impulse for the Latvian economy and financial market will come from increasing growth prospects in the euro area and smaller interest rates on lending to households and businesses and on government borrowing.
In the long term, EAPP will have a positive impact on the euro area growth only if the euro area countries continue to maintain a strong fiscal discipline and implement structural reforms; otherwise the benefits of the EAPP might be short-lived.
Figure 1. Eurosystem's EAPP components:

Figure 2. Euro are PMI and 3-month EURIBOR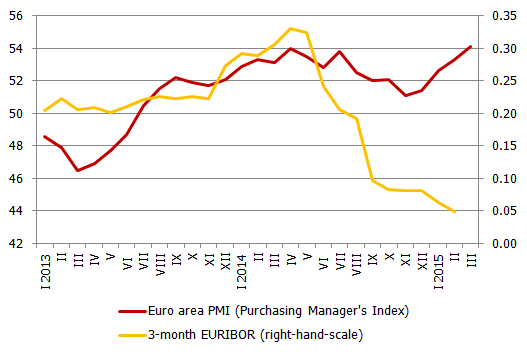 x
Textual error
«… …»
Report error to the website editor

Similar articles