Energy prices still on the rise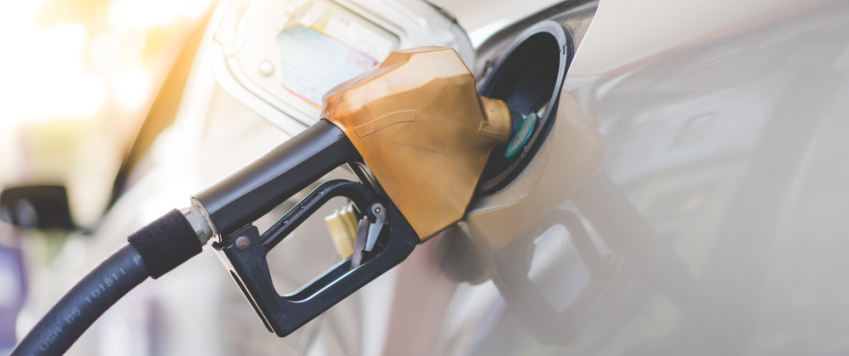 In June, the rise in consumer prices was largely a result of higher energy prices, with an increase in both energy prices themselves and energy-related costs. Overall, in June consumer prices moved up 2.8% and 0.6% year-on-year and month-on-month respectively.
Annual inflation by consumption group (percentage points)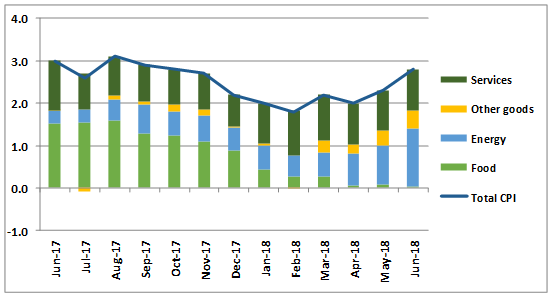 Source: Latvijas Banka
In June, food prices in Latvia recorded minor change both in annual and monthly terms, while globally they saw a decline for the first time this year, despite the negative effect of the weather conditions. The reason for the latter is the growing uncertainty in global trade due to the tariff war between the US and China, as well as on account of Brexit. The weather conditions in 2017 had a negative effect on the grape harvest in the most popular grape growing regions in Europe; as a result, prices of wine also moved up in Latvia.
In June, the average oil price has seen no notable changes in comparison with May, but has remained persistently high though. Consequently, the latest US Energy Information Administration projections for 2018 and 2019 have also been revised upwards. The previously described exchange rate depreciation caused a price rise also in Latvia, with fuel prices moving up 4.5% and 17.5% month-on-month and year-on-year respectively.
In June, the average housing-related costs increased, recording higher prices of energy, housing related services and rent. A more pronounced increase in housing-related costs was seen in Riga where the tariffs of "Rīgas Ūdens" were raised as of 1 June and a high demand for rent appartments is observed.
Consumer price developments are in line with the opinion published in the Macroeconomic Developments Report in June, and Latvijas Banka's inflation forecast for 2018 remains unchanged at 2.9%.
x
Textual error
«… …»
Report error to the website editor

Similar articles