Employment figure will remain close to 900 thousand
The unemployment rate in the first quarter of 2016 was 10.3% of the economically active population, which is an increase of 0.1 percentage points year-on-year and 0.5 percentage points quarter-on-quarter. The data for the first quarter are broadly in line with our forecasts and we assess them as stabilization of unemployment rate. The data published today confirm that there is no reason to hope for a fast drop in unemployment in 2016. 
After a substantial rise during the second half of last year, employment y-o-y growth rate decreased to 0.6%. In the coming years, the number of employed could remain close to 900 thousand:
The cyclical component of unemployment has been exhausted, and structural unemployment cannot drop fast;
Participation rate (the share of  economically active (the employed and jobseekers) among the working age population) has reached the historically highest level, however half of the increase was determined by the changes in the age structure of the population (Fig. 1; for instance, the proportion of young people – low participation in the labour market is characteristic of them – went down). Our demographic forecasts indicate that in a couple of years, the impact of the changes in the age structure will become negative (Fig. 2; including an increase in the proportion of young people). Thus there are no grounds to suppose that the rate of participation will continue to rise fast until catching-up with Northern Europe (Fig. 3).
The number of working age population will continue to contract, albeit slower than up to now (the negative balance of migration is dropping; the proportion of working age population will no longer decrease so rapidly – for changes in the age structure will be at work).
Superficially, the situation may resemble the 'jobless recovery' phenomenon, which has negative connotations: despite economic growth, the number of the employed is practically not growing. Yet in a situation where the capacity of employment growth is close to being exhausted (without migration), it is nothing bad and reflects economic growth driven by productivity.
Figure 1. The actual participation rate and the participation rate if the age structure of 2002 had been maintained (in the 15-74 age group)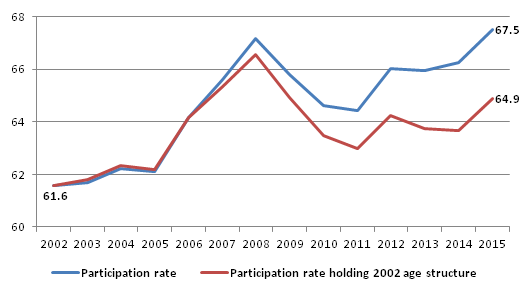 Source: CSB data; author's calculations
Figure 2. The cumulative impact of age structure on participation rate (percentage points; base – age structure in 2002)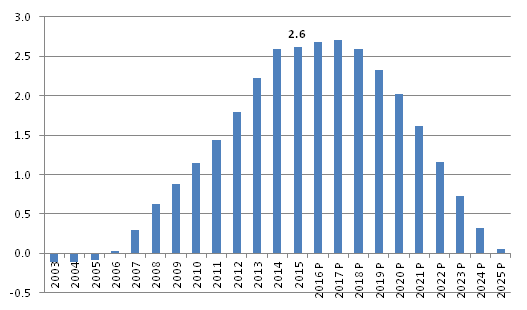 Source: CSB data; author's calculations and predictions
Figure 3. Participation level in the EU countries and Norway (%; in 2015; 15-74 age group)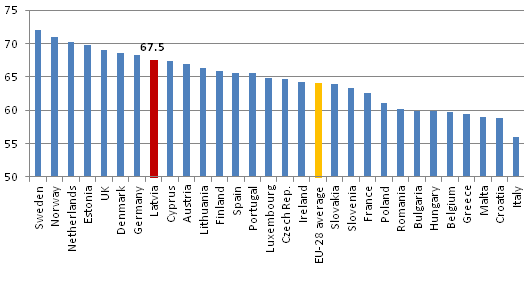 x
Textual error
«… …»
Report error to the website editor

Similar articles