Dropping in November, producer prices promote price competitiveness
In November, producer prices dropped 0.5% month-on-month, slightly more on account of exported production.
The structure of production manufactured for the external and domestic markets differs substantially and that explains the price changes that are asymmetric or of different intensity in the same group of goods, for instance in mining and quarrying (-0.6% and +0.9% respectively in one month) and waste processing (-3.9% and -1.3%). The downward pressure of several substantial supply factors on the producer price index is gradually dissipating, however, and thus there is no reason to expect a significant drop in producer prices in December. Thus, for example, the drop in global food prices abated in November, whereas the tariffs on natural gas that are applied to industrial consumers and have an important impact on energy resource prices and production costs in Latvia remained unchanged in the fourth quarter of the year, according to the data of "Latvijas Gāze".
Fig. 1. The contribution of producer price changes in some branches to the total monthly rise in producer prices, in percentage points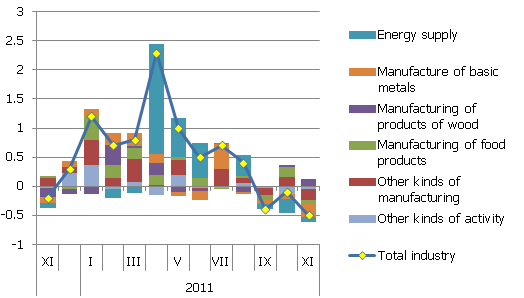 Source: CSB, Bank of Latvia's calculations
The drop in producer prices of the production sold in external markets and production sold domestically diminished by 0.6% and 0.4% month-on-month, respectively. At the beginning of 2012, taking into account the expected rise in natural gas tariffs as applied to industrial consumers, producer prices of production sold domestically are likely to rise slightly more rapidly than those of exports, yet because of the different structures will preclude that from becoming a factor to affect the choice of manufacturers to produce either for the domestic or foreign market. The rise in producer price index will mainly be determined by the groups that are not characteristic of exports, e.g., heating energy production. Indirectly, of course, the rise in heating energy tariffs because of the one in natural gas tariffs will make manufacturing more costly for both markets.
The annual rise in producer prices dropped to 6.9% in November, as a result of a substantial impact of dropping producer prices in wood pulp, paper and metal manufacturing.  
Fig. 2. Month-on-month and year-on-year changes in producer prices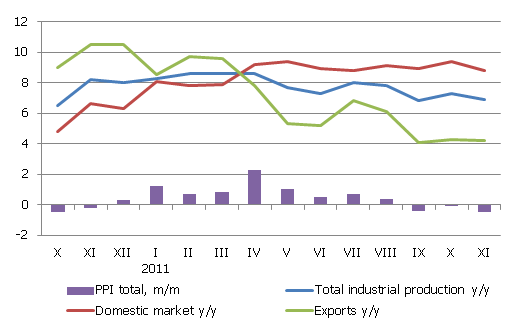 Source: CSB
x
Textual error
«… …»
Report error to the website editor

Similar articles