Competitiveness of Latvia's exports of goods in the region
For Latvijas Banka Monthly Newsletter, In Focus, July, 2018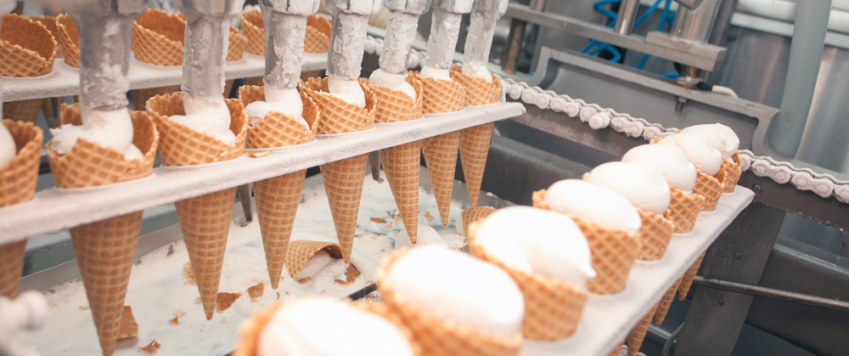 The favourable domestic and external environment has been beneficial for Latvia's economic growth, inter alia allowing for a double-digit rate of increase in income from exports of goods last year. The competitiveness position has also been maintained: the market share of Latvia's merchandise exports expanded globally. However, the optimistic note has been overshadowed by the heightened protectionism emerging in the world this year. 
Our neighbours – the European Union (EU) countries of the Baltic Sea region – have developed into Latvia's major merchandise export markets (53% of exports of goods were delivered to the above countries in 2017), with the geographical proximity being a supportive factor in trade. Even if businesses have managed to penetrate markets or grasp the specific interests and adjust their offer, or find a niche also in the markets not traditional for Latvia (the share of exports of goods to Asian, African and American countries has expanded), the role of markets of our neighbouring countries and our competitiveness there is essential for Latvia's growth.
No doubt, activity in any sector contributes to the economy; however, for assessing the competitiveness of exports, we are particularly interested in the competitiveness of the domestically produced merchandise exports. According to our estimation, re-export activities to the neighbouring countries are relatively more pronounced than on average in Latvia (35% of merchandise exports), e.g. in 2017 re-exports to Lithuania and Estonia stood at approximately 60%, while to Poland it was around 40%.
Chart. Changes in Latvia's market shares of exports of goods and relative import changes of Latvia's trade partners vis-à-vis the world (in 2017; % of previous year)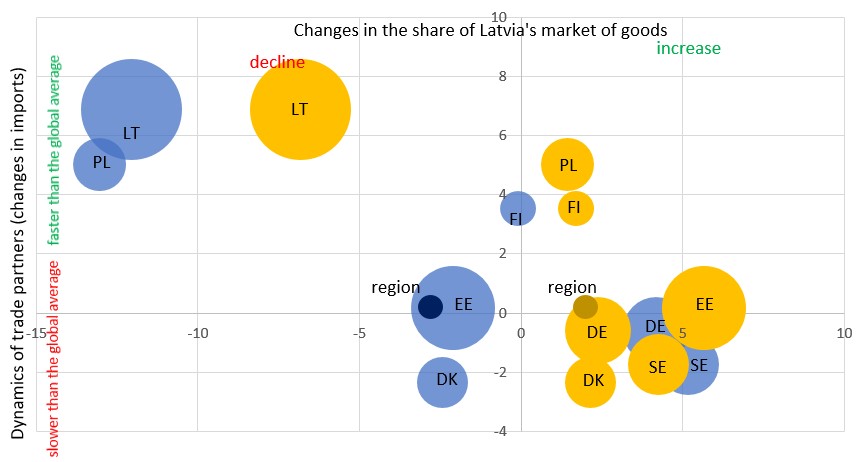 The market shares of Latvia's exports comprising both domestically produced exports and re-exports (see blue shade in the Chart) in the region overall and in several our major trade partners – Lithuania, Estonia, Poland and Denmark – are featured to the left in the Chart, pointing to a deterioration in competitiveness. Nevertheless, the market shares of domestically produced exports with excluded re-export activities (orange shade in the Chart) shift to the right in the Chart, pointing to a more favourable competitiveness position in the region. Total exports of goods have been affected by the re-export flows, particularly the decrease in re-exports of machinery and electrical equipment, as well as a decline in re-exports of mineral products to Poland. By excluding the re-export flows from the exports of goods data, the competitiveness of domestically produced goods in Latvia is sustainable in the EU countries of the Baltic Sea region: export market share in the region is expanding.
During the global cyclical upswing, good growth performance, including export growth, is easier to achieve. However, with the downside risks to the global growth mounting due to escalation of trade tensions, strength and capacity should be built up. This refers to competitiveness which is the foundation for sustainable growth towards higher well-being.
x
Textual error
«… …»
Report error to the website editor

Similar articles