As the year end approaches, deposits grow faster
In November, the rise in deposits attracted by banks was the greatest over this year and probably will be even faster in the last month of the year. Even though the loan portfolio shrank minimally in November, the outlook for any further growth in lending in the near future is not optimistic. 
The total monthly rise of domestic deposits attracted by banks in November exceeded 100 million euro for the first time this year and household deposits grew for a sixth consecutive month. The total domestic loan portfolio, on the other hand, dropped slightly, for the loans granted to households decreased, whereas loans granted to non-financial corporations grew slightly. With the deposit balance of both enterprises and households rising, the total of bank attracted domestic deposits grew by 1.4% in November. The higher base, i.e. the rapidly rising deposits in November of last year because of euro introduction expectations, however, reduced the rate of the annual growth of domestic deposits (to 7.9%, including to 12.1%  for household deposits and to 3.2% for the deposits of non-financial corporations).
As for the changes of Latvia's contribution in the broad monetary aggregate M3 for the euro area, the overnight deposits of euro area residents with Latvian credit institutions rose by 1.7% in November, deposits redeemable at notice by 2.0% and deposits with a set maturity of up to 2 years by 1.0%. The impact of the rise in deposits was supplemented by a slight rise in currency in circulation and thus the overall influence of Latvia on the euro area money supply was positive.   
The drop of 0.1% in the total domestic loan portfolio of banks in November was primarily determined by writing off or re-classification of loans, whereas the balance of loans granted to non-financial societies increased by 0.1% and housing loans shrank slower than in October – by a mere 0.3%. The rate of annual decrease in loans was 5.5% in November, including 6.7% for loans granted to non-financial corporations, 7.2%  for housing loans and 4.1% for consumer loans.
Illustration. Year-on-year changes in some money indicators (%)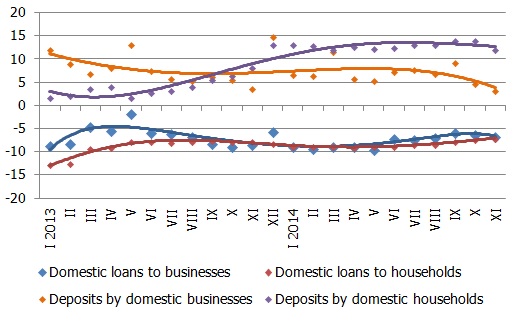 Source: Latvijas Banka
The rise in export revenues and retail turnover in the coming months could cause an increase in business deposits with banks, yet the risks of slowing growth in 2015 preclude any hopes of a substantial rise in business deposits. Caution regarding expenditure, on the other hand, will increase household accruals and thus the total amount of deposits. Geopolitical tensions and the uncertainty related to the drop in the exchange rate of the Russian rouble with respect to export possibilities not only to Russia but also its trading partners, including EU countries, are the most important of the factors that next year will limit any material recovery in lending. 
x
Textual error
«… …»
Report error to the website editor

Similar articles