What's so good about the minimal growth in retail turnover?
The retail turnover in the second quarter has increased only a little (by 0.5%) quarter-on-quarter. Even though at a first glance the performance of the branch in the second quarter seems as sad as this summer's weather, it is really not that: this result should be considered as good for the very rapid growth in the first quarter could mean a drop in the second.  Moreover, the annual growth rate has remained high, increasing by 5.2% year-on-year.
I must admit that at least in April I expected a substantial drop because during the warm Easter holidays of 2014 sales volumes reached a very high level and there was no reason to expect as good a result this year.
A warm and long Easter holiday was not only a Latvian phenomenon – a fast growth could be observed in April of last year also elsewhere in Europe, particularly in our neighbouring countries, yet the peak was most striking in Latvia (see Fig.). Yet the nice growth in sales volumes in the first quarter of this year was observed only in Latvia. That is mostly related to the effect of a lower base – the fact that in January and February 2014, after the introduction of the euro, customer activity was lower.  That was determined by the larger outlays of cash (in lats) before the turn of the year and a small trend of renewing savings in euro. Against the background of last year's performance, the increase in retail turnover at the beginning of 2015 looks impressive.
A drop in sales volumes in the first months after the euro introduction was observed also in Estonia in 2011. Yet in Lithuania these short-term fluctuations because of the change in currency were not as striking, although a small drop in January 2015 was indeed the case.  
Retail turnover is affected of course by many other factors – increased purchasing power, contracting shadow economy (particularly in the fuel sales segment), weather, purchases by foreign guests etc. I addressed these factors in more detail in my previous retail trade commentary.

Annual changes in the retail trade turnover at constant prices in Latvia, Lithuania, and Estonia (%, workday adjusted data)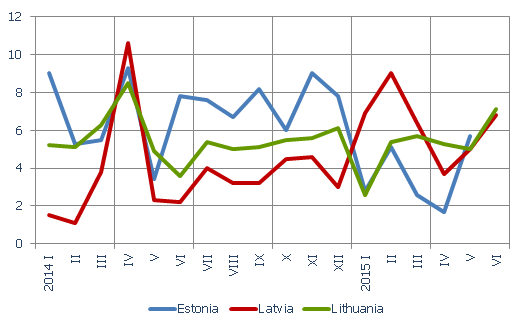 Data source: Eurostat and Central Statistical Bureau
x
Textual error
«… …»
Report error to the website editor

Similar articles