Stable growth in both loans and deposits in November
A moderate increase in banks' balance sheets was observed both in terms of loans granted and deposits attracted. The loan portfolio of households remained practically the same, but the balance of loans granted to enterprises rose. Deposits with banks were increased by households and nonfinancial enterprises but decreased by financial institutions, particularly pension funds.
The balance of domestic loans increased in November by 0.4%, with loans to nonfinancial enterprises growing by 0.6% and those to financial institutions by 1.3%.  The balance of housing loans granted to households meanwhile remained almost unchanged, whereas consumer loans rose by 0.7%. The annual rate of total domestic loan growth reached 2.3% in November (the highest y-y growth indicator since April 2009), with the loans granted to nonfinancial enterprises increasing by 0.7% and loans granted to households dropping by 2.0% year-on-year. The amount of newly granted loans (excluding reviewed loans) increased by 38.1% year-on-year in the first eleven months of the year (including those granted to households by 34.1%).
The domestic deposits attracted by banks grew by 0.6% in November, with their year-on-year growth rate at 8.1%. The deposits of nonfinancial enterprises increased by 1.4% (year-on-year growth rate at 9.0%) and household deposits by 1.5% (year-on-year growth rate at 7.4%).
Latvia's contribution to the euro area M3 aggregate increased in November, with the overnight deposits of the euro are residents with Latvian credit institutions (by 1.3%) and deposits redeemable at notice (by 1.6%), as well as deposits with a set maturity of up to two years (by 4.6%) growing. Latvia's contribution to the euro area M3 increased by a total of 1.7%, which amounted to 8.3% growth year-on-year. 
Year-on-year changes in some money indicators (%)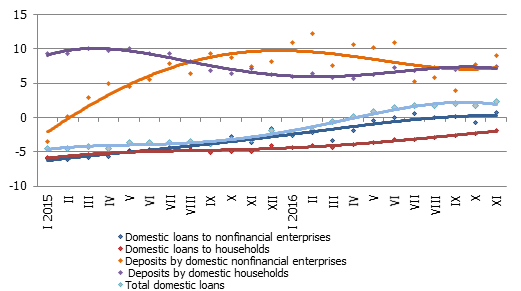 Source: Latvijas Banka
 
This year was marked by a substantial change in the relationship between banks and their clients – the prolonged period of post-crisis stagnation ended in lending and, with the annual growth in newly granted loans exceeding 30%, the loan portfolio resumed growing in the business sector and next year will probably resume in the household sector.
Yet a number of problems and risks remain, which may substantially impede the expected growth in lending, also diminishing the impact of the supportive monetary policy of the Eurosystem.  The problems are primarily of structural character, including taxation and judicial systems that do not promote economic growth; the risks in the external environment are also not diminishing, which has an impact on the desire of entrepreneurs to borrow and invest.
x
Textual error
«… …»
Report error to the website editor

Similar articles