New era in Latvia's securities market
For Latvijas Banka Monthly Newsletter, In Focus, September, 2017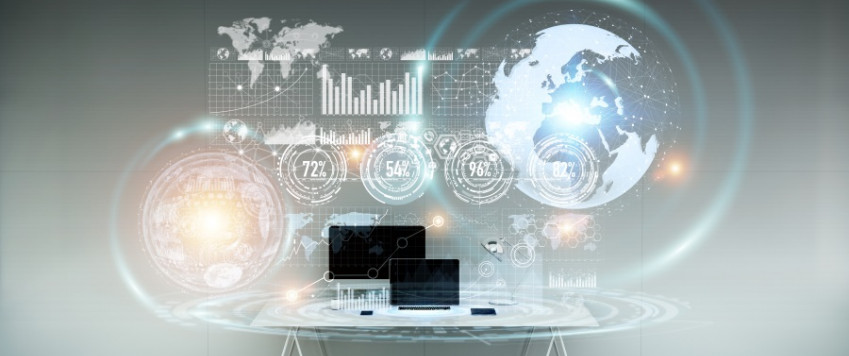 Latvia's securities market and its securities settlements have experienced substantial changes.
For over a month, Latvia's securities market settlements in euro are executed via the TARGET2-Securities platform developed by the Eurosystem. On 18 September 2018, the Eurosystem successfully completed launching a single TARGET2-Securities settlement platform, its largest project ever implemented in the area of payments and financial infrastructure. The project's final stage was the successful migration of Latvia's securities market, together with the securities markets of the other two Baltic States and Spain, to the TARGET2-Securities platform. Latvijas Banka along with other Eurosystem members not only took part in the implementation of the TARGET2-Securities project, but also provided support to the securities market participants of Latvia. This is a project of an unprecedented scale globally where securities markets of 20 European countries, 20 central securities depositories and 22 central banks carry out their securities and cash settlements via a single settlement platform TARGET2-Securities.
TARGET2 processes more than 500 million securities transactions per business day, with their total value exceeding 750 billion euro. 
TARGET2-Securities is a single settlement platform based on state-of-the-art technologies; each business day it ensures settlement of delivery versus payment transactions in euro in real time. To ensure that, securities depositories open securities accounts for their members (credit institutions and other market participants) in TARGET2-Securities platform and transfer securities to the accounts. Central banks open settlement accounts in euro for credit institutions in the new platform to support securities settlement in euro in central bank money. Beginning with 29 October 2018, settlement via TARGET2-Securities platform will also be possible in Danish krones.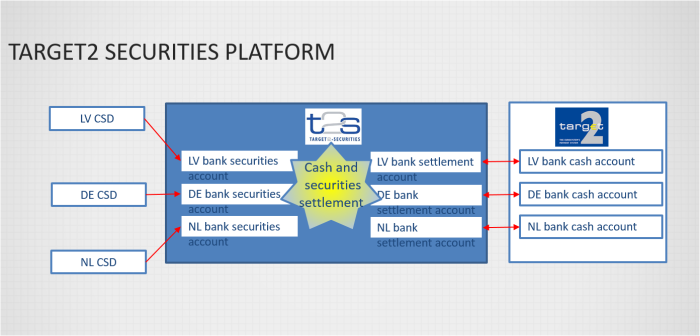 Latvijas Banka has opened settlement accounts in euro for Latvia's credit institutions in TARGET2-Securities platform, while the securities depository Nasdaq CSD, which provides securities depository services in Latvia, has opened securities accounts for credit institutions and their customers in the new platform. As a result, in Latvia's securities market we have provided a single gateway for investors and securities issuers into the Baltic and European capital markets, ensured uniform participation criteria with no differences between domestic and cross-border settlement and effective liquidity savings tools for Latvian credit institutions provided by Latvijas Banka.
Another unique project - establishment of Nasdaq CSD
In addition to the TARGET2-Securities project, another significant project for Latvia's securities market was completed on the same day, 18 September, with Latvijas Banka providing notable support to it. The newly established Nasdaq CSD, a single institution for central securities depository services in all three Baltic States, started its operation. Establishment of Nasdaq CSD is a unique pan-European project. Not only did Nasdaq CSD merge the central securities depositories of the three Baltic States into one corporate entity and smoothly migrated to the TARGET2-Securities platform, but it was also the first central securities depository licensed under the new EU Central Securities Depositories Regulation. The new Regulation establishes higher requirements to ensure secure and efficient operation of securities depositories. Latvijas Banka, together with the central banks of Estonia and Lithuania, have assessed Nasdaq CSD securities settlement systems as compliant with the international standards for payment and securities settlement oversight. The Eurosystem has also recognised Nasdaq CSD to be a safe entity that is eligible for use in Eurosystem monetary policy operation settlement. 
With migration to TARGET2-Securities platform and launching of operation of the new Nasdaq CSD, Latvia's securities market and its participants have new, wide and challenging horizons ahead of them to further develop new, innovative and competitive securities services for the public in Latvia.
x
ORTOGRĀFIJAS KĻŪDA TEKSTĀ:
«… …»
Nosūtīt paziņojumu vietnes redaktoram
Jūsu interneta pārlūkā saglabāsies tā pati lapa