The money supply remains stable
The slight rise in bank attracted deposits and the decline in the loan portfolio observed in October have not had a substantial impact on the total money supply.  Thus the outlook on further development does not change – lending will still be impeded by external risks and the problems in the domestic legal environment.
The rise in the total domestic deposits attracted by banks in October was determined by the rise in household deposits observed for a fifth consecutive month. The total amount of the total domestic loan portfolio of banks dropped slightly, with the loans granted both to households and non-financial enterprises decreasing. The annual drop rate of loans continued to improve, however, and was -5.3% in October.
Although the deposits of enterprises dropped slightly, the total balance of bank attracted domestic deposits increased in October by 0.3%, with the annual growth rate of domestic deposits at 9.1%. Household deposits meanwhile increased by 1.1% month-on-month (the year-on-year rate in October was at 14.0%).
As for the changes in the Latvian contribution to the common euro area money indicator M3, the overnight deposits of euro area residents in Latvian credit institutions in October grew by 0.7% and deposits redeemable at notice by 2.5%, whereas deposits with the maturity of up to 2 years dropped by 4.2%. Latvia's overall impact on the euro area money supply was neutral, because the slight rise in deposits was compensated by the drop in the amount of cash in circulation.
The drop in total domestic loan portfolio of banks in October by 0.5% was determined by the contraction, by 0.8%, of loans granted to nonfinancial corporations. At the same time, loans granted to financial brokerage businesses continued to grow and the rather stable situation in the area of domestic demand has begun to benefit lending to households – for a four consecutive month, consumer lending has been growing and the shrinking in housing loans has slowed. The indicator of annual drop in loans for those granted to non-financial businesses in October was  6.2% and in loans granted to households 7.4%.
Illustration. Year-on-year changes in some money indicators (%)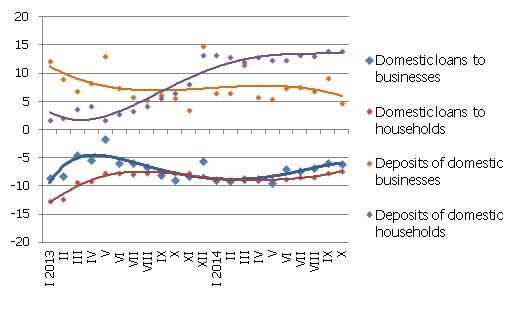 Source: Latvijas Banka

With growth in most of Latvia's trade partners remaining weaker than expected, the drop in the income of exporting enterprises will not allow them to substantially increase their accruals in banks, whereas households will continue to increase the security reserve of finances. The uncertainty of the external environment is also one of the factors that is limiting now and will continue to limit the resumption of business lending, yet lending will also continue to be impeded by the lack of order of the domestic legal environment. 
x
Textual error
«… …»
Report error to the website editor

Similar articles