Monetary indicators remained stable in March
In March, the dynamics of monetary indicators in Latvia was characterized by stability: the main tendencies of previous periods were retained, and the rise in bank attracted deposits and drop in the domestic loan portfolio were both negligible while the annual rate of indicator change improved slightly.
In March, the total balance of bank attracted domestic deposits increased by 0.5%, with their annual rate of increase rising by 1 percentage point, to 5.9%. With the deposits of nonfinancial enterprises increasing substantially and those of households more moderately, their balance exceeded the level of March 2014 by 2.9% and 10.1%, respectively.
As for the changes in Latvia's contribution in the euro area aggregate monetary indicator M3, the euro area residents' overnight deposits with Latvian credit institutions increased by 0.5% in March, whereas deposits with an agreed maturity of up to two years dropped by 0.7% and deposits redeemable at notice contracted by 2.1%. Since the amount of cash currency in circulation also dropped slightly in March, total impact of Latvia on the euro area money supply was close to neutral: its contribution to M3 rose by a mere 0.1% month-on-month and 6.7% year-on-year.
The domestic loan portfolio of banks contracted by 0.2% in March, including loans to nonfinancial enterprises by 0.6% and loans to households by 0.2%, whereas loans to financial institutions increased slightly. The annual rate of drop in domestic loans improved by 0.2 percentage points, reaching 4.3% (in loans to nonfinancial enterprises 5.8% and loans to households 5.4%).
Annual change in some monetary indicators (%)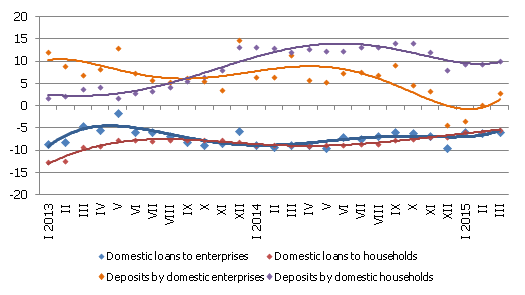 Source: Latvijas Banka
 
The stable, albeit small increase in the attracted deposits indicates that economic growth and the rise in real compensation are allowing households to continue to form accruals and we can expect a moderate growth in deposits also in the coming months.
Even though the survey conducted at the end of March on bank lending indicates that banks have slightly raised their standards for lending to enterprises and the economic situation is preventing entrepreneurs from increasing the demand for loans, a slight rise in the demand for loans is expected in the second quarter on the part of enterprises. As far as lending to households is concerned, the easing of standards for housing loans after the amendments made by the Saeima to the Insolvency Law and the Consumer Rights Protection Law, as well as the involvement of the large commercial banks in the state support programme for housing purchases, have once again given rise to hope regarding the resumption of mortgage lending. Banks too are expecting a substantial rise in the demand for housing loans in the second quarter. Thus a graduate slowing in the rate of drop in the loan portfolio is expected this year.  
x
Textual error
«… …»
Report error to the website editor

Similar articles