Monetary aggregates remain stable in April
Like in the first months of the year, monetary aggregates remained broadly unchanged in April as well. The positive impact of an increase in household deposits, however, was outweighed by a drop in corporate deposits. Hence the total domestic deposits posted a moderate fall, nevertheless, still exceeding the level observed in April last year by 9.1% and in the month before the rapid surge in deposits associated with the euro changeover pirms straujā noguldījumu kāpuma saistībā ar pāreju uz eiro (by 4.6% in comparison with November). As regards the loan portfolio, it posted a minimum decrease in April, a mere 0.1%, as a result of a slight drop in loans granted to non-financial corporations and households and a pickup in those granted to non-bank financial institutions.
In April corporate and household deposits shrank by 0.9%, with those of households growing by 1.6% and those of non-financial corporations falling by 2.7%. Consequently, the annual growth rate of household deposits rose to 12.8%, while that of non-financial corporations contracted to 5.8%.
Looking at Latvia's contribution to changes in the monetary aggregate M3 of the euro area, in April overnight deposits of euro area residents with Latvian credit institutions edged down by 0.8% and deposits with an agreed maturity of up to 2 years fell by 3.1%. Deposits redeemable at notice moved up by 1.7%. Although currency in circulation also expanded, Latvia's overall impact on the euro area money supply was on the downside.
The portfolio of domestic loans granted to businesses grew by 0.4% in April, while those granted to households decreased by 0.6%, with notable growth in lending mostly to financial intermediaries having an increasing effect. The annual rate of decline in lending continued to improve: it stood at 8.0% in April, including a 7.2% annual decrease in corporate loans and a 9.0% drop in loans granted to households.
Chart. Annual change of selected monetary aggregates (%)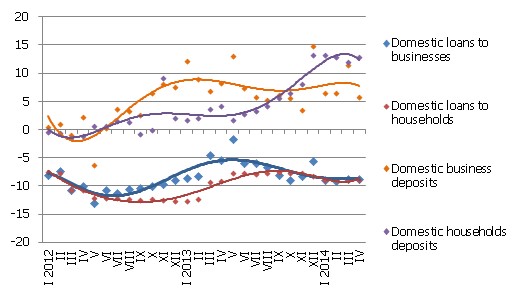 Source: Latvijas Banka
The current trend of moderate economic growth in combination with the generally high assessment of the consumer financial status and savings levels and the improving labour market allows us to expect that the savings deposited with banks will remain stable and those of the household sector will grow in the future as well. Precautionary savings could also have an impact in case the geopolitical situation aggravates. Although no significant changes are expected in lending in the next 12 months, granting of individual large value loans related to investment projects could reduce the decrease in the aggregate loan portfolio. Also, the currently observed and also forecast increase in the number of leasing transactions by market players (e.g., see 27.05.2014 | Nordea.lv) could continue to positively affect to the already existing lending growth to non-bank financial institutions. 
x
Textual error
«… …»
Report error to the website editor

Similar articles