Moderate growth continues in the monetary sector
In June, with the portfolio of loans granted to both the domestic financial and nonfinancial enterprises, the rise in the total balance of loans granted to residents continued for a fourth consecutive month. The balance of deposits attracted by banks grew for a third consecutive month.
The balance of domestic loans increased in June by 0.1%, with the loans granted to nonfinancial enterprises increasing by 0.1%, loans to financial institutions by 1.4% and consumer loans to households by 0.5%. Only loans for house purchase slightly dropped. The rate of annual rise in total domestic loans reached 1.4%, and in June it turned positive also for loans to nonfinancial enterprises (+0.02%), remaining below zero (-3.3%) only for loans to households.
The domestic deposits attracted by banks increased in June by 0.8%, with the rate of their annual growth at 12.4%. Household deposits increased by 1.7% (rate of annual growth 7.3%), and enterprise deposits dropped by 0.3% (annual growth in June 18.9%).
With deposits growing and the demand for cash virtually unchanged, the Latvian contribution to the euro area total money supply indicator M3 increased. The overnight deposits by euro area residents with Latvian credit institutions rose in June by 1.5% and deposits redeemable at notice by 0.8%, whereas deposits with the set maturity of up to two years shrank by 0.8%. Overall, the Latvian contribution to the euro area M3 increased by 1.1%, growing by 11.6% year-on-year 
Y-y changes in some money indicators (%)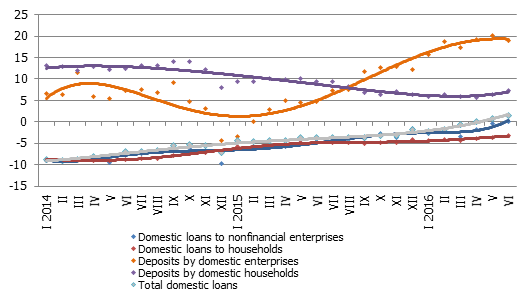 Source: Latvijas Banka
The renewed increase in lending, albeit small, and the maintenance of a moderate rise in deposits characterize the overall stability that is observed in the Latvian economy. Even though fundamental changes are not expected in these trends, we must note some factors that influence them. Among those, is an interruption in the availability of European Union (EU) structural funds, which hinders the lending to construction projects, yet one reason for hope is the stable progress observed regarding the readiness to begin investing, according to the informative report of the Ministry of Finance on the status of EU fund investment introduction. Another is the allotment of additional funding for the housing support programme adopted by the government at the beginning of July, which gives rise to a more positive view of lending to households. The expected exit of the United Kingdom from the EU, on the other hand, means increased uncertainty and possible postponement of investments in the shorter and medium term. 
x
Textual error
«… …»
Report error to the website editor

Similar articles