In March monetary aggregates fluctuated on account of one-off factors
Although the general trends of monetary aggregates remained broadly unchanged in March, several developments contributing to narrowing or expanding the traditional range of changes in deposits and loans over the month should be pointed out. For example, the licence of Trasta komercbanka was cancelled on 3 March, having a slightly dampening effect on both deposits and loans, whereas the loan portfolio increased on account of funds transferred by a bank to its subsidiary, a leasing company. As a result, deposits of both domestic companies and households contracted somewhat in March, while the loan portfolio of the non-financial corporations and households sectors decreased, but that of the financial sector and the total loan portfolio posted considerable growth.
Domestic deposits received by banks fell by 0.4% in March, with their annual growth rate standing at 10.9%. At the same time corporate and household deposits dropped 0.5% and 0.3% month-on-month respectively, posting respective annual rates of increase of 17.3% and 5.8% in March.
A fall in deposits and moderating demand for cash accounted for a decline in Latvia's contribution to the monetary aggregate M3 of the euro area. In March overnight deposits of euro area residents with Latvian credit institutions decreased by 1.2% and those redeemable at notice fell by 4.4%, while deposits with an agreed maturity of up to 2 years moved up by 6.7%. Overall, Latvia's contribution to the monetary aggregate M3 of the euro area dropped 0.7% in March, exceeding the level of the corresponding period of the previous year by 9.5%.
Bank loans to domestic companies and households grew by 1.1% in March, mostly on account of those granted to non-bank financial institutions, while loans to non-financial corporations and households fell by 1.8% and 0.4% respectively. The annual rate of decrease in total domestic loans improved to reach -0.6%, though posting slight declines in loans to non-financial corporations and households, to -3.4% and
-4.3% respectively.
Annual change of selected monetary aggregates (%)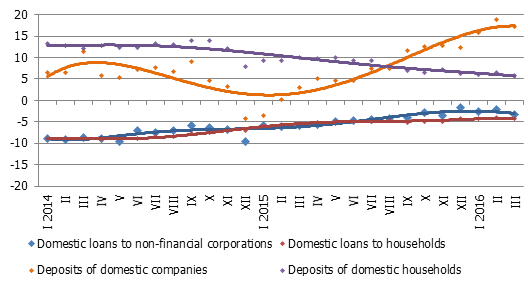 x
Textual error
«… …»
Report error to the website editor

Similar articles