Manufacturing was volatile in the second quarter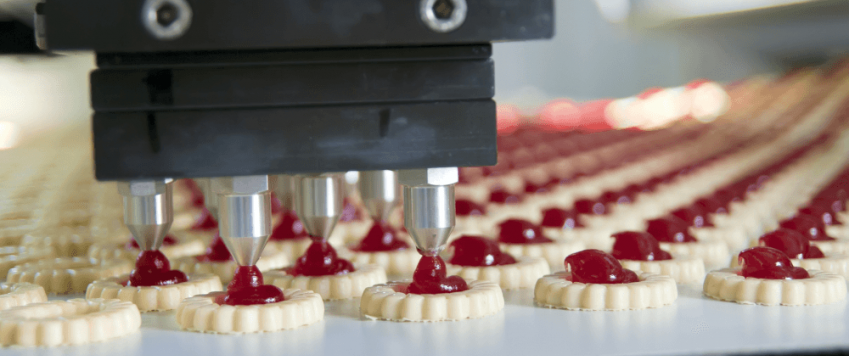 In the monthly composition, manufacturing was very volatile in the second quarter. Particularly strong volatility can be observed with respect to the manufacture of computer and electronic products. However, growth rates have declined overall in comparison with those recorded last year. Sentiment indicators suggest that insufficient capacity on the supply side is a significant obstacle to a more dynamic output growth.
Following a rather weak manufacturing output from January to April, manufacturing performance improved significantly in May and remained unchanged in June. Overall, in the second quarter the manufacturing output grew by 0.9% and 2.5% quarter-on-quarter and year-on-year respectively. 2017 was a particularly successful year for many sectors, e.g. the pharmaceutical sector, the producers of beverages, motor vehicles and their parts as well as the producers of high technologies. Consequently, the modest growth rates recorded this year seem weak against the previous year's high base.
Sentiment indicators show that capacity utilisation is very high and businesses increasingly report labour shortages as a factor restricting business growth. At the same time, complaints about insufficient demand for goods are less and less frequent. Thus, capacity building on the supply side will be of key importance in the future.
In the first quarter, total investment expanded at a more rapid pace, while investment in manufacturing declined. Nevertheless, the latter might pick up in the second half of the year. Over the past few months, many businesses publicly announced new investment projects: fibreboard producer "Kronospan Riga" will invest 100 million euro in innovative and environmentally friendly technologies, food producer "Orkla" is planning to invest tens of millions of euro (the exact amount was not disclosed to the public) in the construction of a new biscuit plant, sawmill "Vika Wood" will invest 11 million euro in an automated log sorting line, cement producer "Cemex" is planning to invest 6.8 million euro in the modernisation of its plants this year, etc.
Investment growth in manufacturing will facilitate an improvement in the sector's performance and increase the supply of goods. Manufacturing performance will also be affected by investment in other sectors: the construction of trading centres, office buildings and infrastructure objects will boost demand for manufacturing goods such as building materials, metal structures, etc. Therefore, the dynamic growth in the construction sector in 2018 is good news for manufacturers.
Volume indices of manufacturing sub-sectors; Q2 2018 (%; year-on-year; output weights)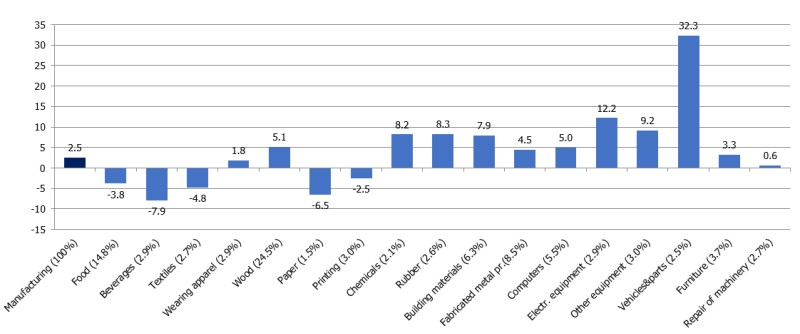 Factors restricting manufacturing (%)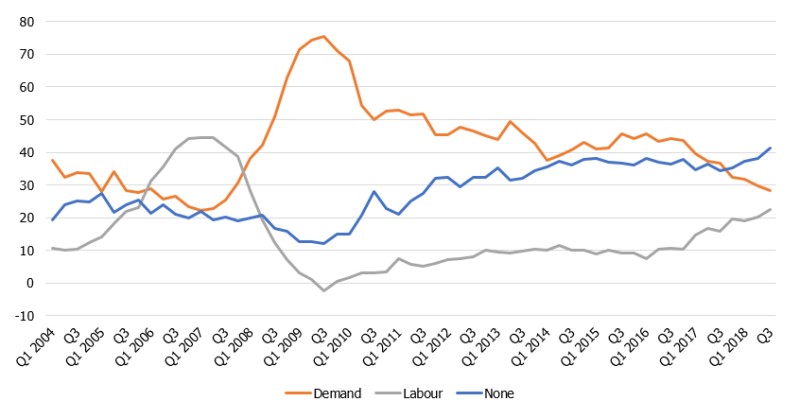 x
Textual error
«… …»
Report error to the website editor

Similar articles