Manufacturing output in August slightly down
The industrial output in August (seasonally adjusted data) dropped 0.4%, including 1.6% down in manufacturing. It may be premature to turn to melancholy tunes for this small drop follows a rather significant improvement in the previous six months, and domestic demand has also improved over this period. Yet there is no good news regarding external demand and the European (and not only!) orchestra keeps playing only sad musical fragments picking up a truly mournful strain here and there. 
Compared to August of last year, manufacturing has continued growing (+6.4%), with the rate of growth gradually slowing because of the achieved high base. A rapid annual growth was observed in the following production branches: fabricated metal products (+49.0%), electrical equipment (+36.8%), wearing apparel (+25.8%), non-metal mineral products (+17.1%), computers, electronic and optical products (+15.4%), textiles (+10.6%), wood and wood products (+7.5%). Growth remained negative in the production of pharmaceuticals (-24.3%) and chemicals (-24.6%).
The confidence indicator of the industrial sector in the European Union is beginning to resemble a snowball – it is continuing down the slope with ever greater acceleration: the drop reached 3.3 points in September. The evaluation by Latvian manufacturers improved by 2.0 points, yet the dynamic is fluctuating and overall remains stable. It is interesting to note, that the outlook of both European and Latvian manufacturers by and large coincided until mid- 2010, to separate afterwards, with Latvian manufacturers remaining cautious while optimism grew in Europe overall – apparently prematurely.
Confidence indicator of the industrial sector (response balance)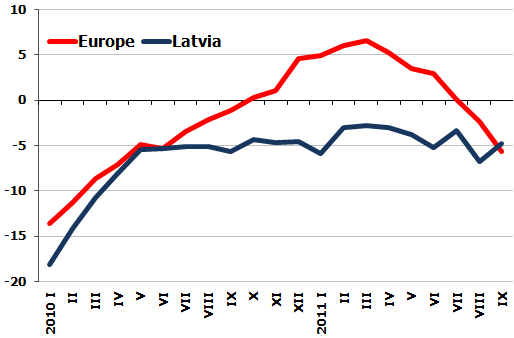 Source: European Commission
To summarize industrial developments:
a) The Latvian industrial output in August has shrunk slightly but it has happened against the background of a rather rapid growth over the previous six months;
b) The evaluation of the future of Latvian industrial enterprises and the entire branch is cautiously stable;
c) The European Union countries continue on a roller-coaster ride.
What does all of this mean? It is possible that our manufacturers know how to weather the global storms with stable shares of the market, new niches, and new products. The fact that the manufacturers stay the course of caution is also probably good: one mistake at this time may throw us in a turmoil. Yet such a perspective is likely to have its opponents who will say: be cautious when others are optimistic and be bold when others cower in fear. 
x
Textual error
«… …»
Report error to the website editor

Similar articles