Lending still remains subdued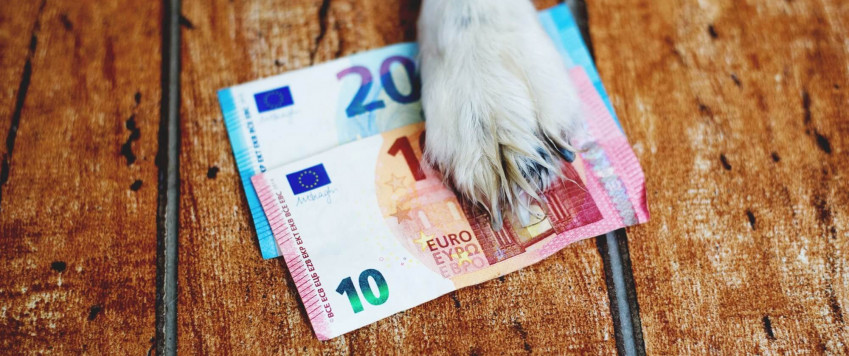 Lending is still in the focus of attention, both on account of the external uncertainty and the cautiousness of the domestic consumers and investors. Its growth is likely to provide additional stimulus to economic growth and improve consumer and business confidence. Nevertheless, October has not yet seen any essential changes in the currently subdued lending dynamics. The minor loan portfolio growth merely provided a small contribution to the annual rate of increase in domestic loans (up to 1.9%), while that in loans to households shrank to 0.8%. Domestic deposits, however, saw more accelerated growth, with their annual rate of increase reaching 10.3%.
In October, the domestic loan portfolio expanded by 0.4%, with loans granted to non-financial corporations moving up by 0.9% and the household loan portfolio posting a 0.1% rise (loans for house purchase remained broadly unchanged, but consumer credit increased by 0.6%). October saw no substantial changes in new loans either: lending to businesses was slightly lower, but that to households – somewhat higher month-on-month; both groups received less new loans in comparison with October 2018. In the first ten months of 2019, total new loans also fell by 0.2% year-on year. 
As to domestic deposits, they grew by 1.5% in October, with both corporate and household deposits expanding. Both overnight and long-term deposits increased, while short-term deposits shrank. Latvia's contribution to the monetary aggregate M3 of the euro area grew by 1.7% in October, with overnight deposits of euro area residents with Latvia's monetary financial institutions and deposits with an agreed maturity of up to two years expanding, but deposits redeemable at notice contracting. The annual growth rate of M3 stood at 8.8% in October, whereas the above deposits posted increases of 8.5%, 19.4% and 2.5% respectively.
The annual rate of change in domestic loans (%)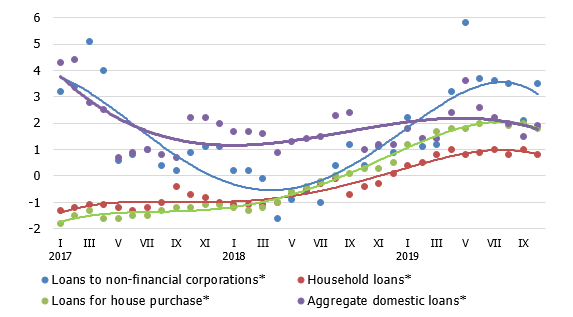 * For the sake of comparability, the one-off effects related to the restructuring of Latvia's banking sector have been excluded.
In view of the current slowdown of the European Union economic growth, the role of the banking sector in ensuring investment is becoming increasingly important. The slight expansion of the loan portfolio observed up to now points to a positive trend; however, higher financing of the banking sector as well as broader participation of the capital market and non-bank financial sector is required to improve Latvia's competitiveness. Availability of resources, inter alia the domestic deposit pick-up, seems to be a reasonable basis for expecting accelerated lending growth to resume in the medium term.
x
Textual error
«… …»
Report error to the website editor

Similar articles