Lending to households shows encouraging trends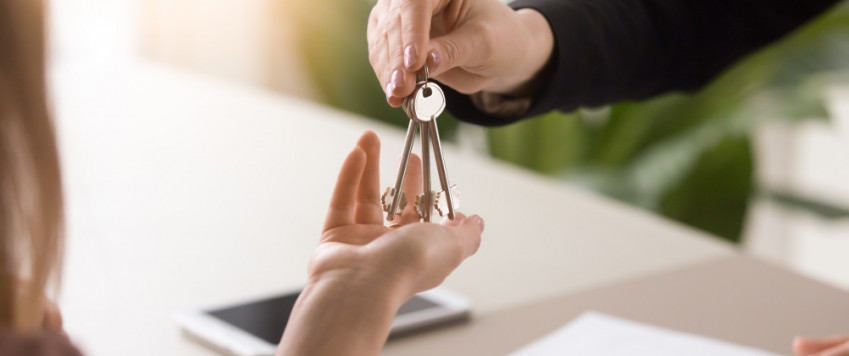 Although new loans to households have been gradually increasing for more than three years now, so far the total loan portfolio of households has continued its declining trend observed on a month-by-month basis since the crisis. Nevertheless, the portfolio of loans to households expanded in May, with loans for house purchase and consumer credits growing at an unusually rapid pace (by 0.3% and 1.8% respectively). The annual rate of decrease in the loan portfolio of households improved to reach –0.7%; inter alia, the annual growth rate of consumer credit stood at 2.1%, whereas loans for house purchase shrank by a mere 0.6% over the past 12 months (the least negative figure since 2009). Meanwhile, new loans to households expanded for the third consecutive month, and, over the last two months, exceeded the indicators of the corresponding period of the previous year.
On account of the growing household lending, the total domestic loan portfolio also increased slightly despite a decline in the loans granted to non-financial corporations. Both private and public enterprises significantly reduced their domestic deposits and, as a result, aggregate deposits decreased.
The annual rate of decrease in the domestic loan portfolio improved to –3.1% in May, with the annual decrease indicator of the loan portfolio of non-financial corporations amounting to –9.6%. At the same time, new loans to non-financial corporations grew somewhat more in May as compared to April, while posting a 41% decline year-on-year.
In May, domestic bank deposits decreased by 2.2%, with deposits of non-financial corporations shrinking by 7.0% and household deposits remaining unchanged; consequently, the annual rate of growth stood at 1.9% and 8.2% respectively.
Latvia's contribution to the monetary aggregate M3 of the euro area decreased by 2.0% in May, with its annual growth rate standing at 3.5%. Within the month, overnight deposits of euro area residents with Latvia's monetary financial institutions shrank by 2.4%, deposits redeemable at notice declined by 1.0%, while deposits with an agreed maturity of up to 2 years grew by 1.6%.
Household loans for house purchase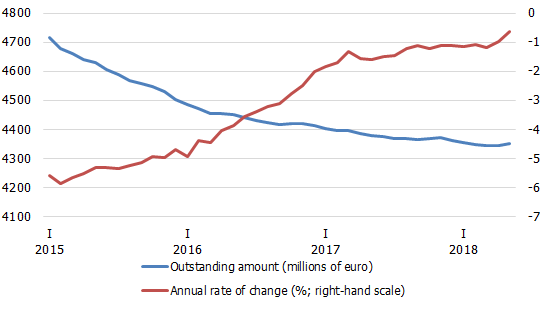 The recovery of lending to households was facilitated by the state support for house purchase provided to families with children and young professionals as well as by overall economic growth. Improved labour market conditions and a rise in remuneration have strengthened the confidence in the future and served as an incentive to invest in house purchase or housing improvement. Moreover, these developments have facilitated an increase in consumer credit. The prospects of moderate economic growth give reason to anticipate a further, albeit not too dynamic, expansion of loans for house purchase and consumer credit. Meanwhile, loans to enterprises continue on a downward trend, and the prospects of recovery are rather unclear, in light of declining optimism and growing tensions in the external environment in particular.
x
Textual error
«… …»
Report error to the website editor

Similar articles