Lending to businesses picks up pace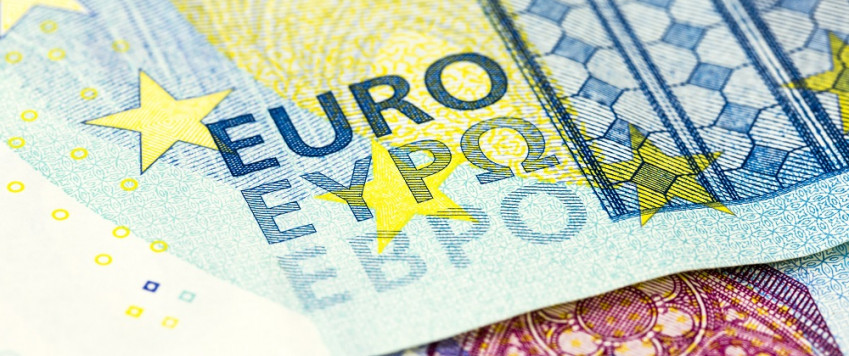 The increase in the balance of loans to nonfinancial enterprises in March was the fastest in the last four months, thus also ensuring an increase in the total domestic loan portfolio.
Even though the bank-attracted deposits by non-financial enterprises and households grew, the drop in deposits by non-bank financial institutions resulted in a small contraction of total domestic deposits.  
The balance of loans granted to domestic non-financial enterprises increased by 0.4% and the balance of those granted to households dropped by 0.2% while total domestic loans grew by 0.1%. Under the impact of base effect (in March of last year, the portfolio of loans granted to financial enterprises sharply increased by a bank financing its subsidiary leasing company), the rate of year-on-year change in domestic loans dropped to 2.8%. Meanwhile, the rate of year-on-year growth in loans granted to non-financial enterprises reached 5.1% and the rate of year-on-year drop in loans granted to households improved to -1.1%". The amount of newly granted loans (excluding reviewed loans) in March grew by 5.4% (including by 5.1% to non-financial enterprises and by 6.0% to households) year-on-year.
The bank-attracted domestic deposits dropped in March by 0.4% while the rate of their year-on-year rise was maintained at the level of 4.7%. The drop was experienced only in non-bank financial enterprises' deposits with banks, whereas the deposits of both non-financial enterprises (by 0.6%; rate of annual growth at 9.2%) and households (by 0.1%; rate of annual growth at 8.9%) increased.
Even though domestic deposits contracted slightly,  the total of euro area residents' deposits with Latvian credit institutions grew in March and so did the Latvian contribution to the euro area money supply indicator M3 (by 0.3%; the rate of year-on-year growth at 6.1%). The overnight deposits by euro area residents with Latvian credit institutions increased by 0.6%, whereas their deposits redeemable at notice and deposits with set maturity of up to two years dropped  (by 1.3% and 0.9% respectively).
The y-y changes of some money indicators (%)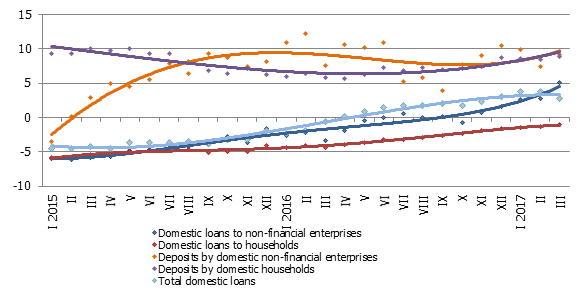 For quite some time now, monetary data clearly point to a successful interaction between the real sector of the economy and credit institutions: with the economy growing at a moderate rate, the enterprises of the non-financial sector (and also households) consistently increase their deposits with banks while they become more active in lending to enterprises. All of this adds up to make a mutual contribution to economic growth.
At the same time, the dynamic of loan portfolio balance and newly granted loans indicate that the trend of moderately increasing lending to enterprises will continue and, in the second half of the year, it will be joined by an increasing portfolio in lending to households.  
x
Textual error
«… …»
Report error to the website editor

Similar articles