Lending Is Back
April has been marked by a long-awaited event, which finally has come to pass: the annual rate of growth of domestic loans has returned to the positive sector. For a second consecutive month, the amount of the domestic loan portfolio of banks has also grown. If in March this was the result of a transaction of a single bank within the financial sector, in April, the loans granted to nonfinancial companies also grew as did – albeit slightly – housing loans to households. At the same time, the rise in deposits attracted by banks also resumed.
The banks' balance of loans for domestic enterprises and households in April increased by 0.5%, with the loans granted to nonfinancial enterprises increasing by 1.0%, loans to financial institutions by 0.6% and housing loans to households by 0.02%. The annual rate of change in total domestic loans improved by 0.7 percentage points, reaching +0.1%, although it still remained negative for loans to nonfinancial enterprises and loans to households (-1.9% and -4.0% respectively).
The domestic deposits attracted by banks increased in April by 1.3% and their annual rate of growth reached 11.7%. Enterprise deposits grew 1.3% month-on-month (annual increase in April was 19.3%) and household deposits by 1.2% (annual increase of 5.7%).
The rise in deposits determined the rise in the Latvian contribution to the euro area total money indicator M3. The overnight deposits with Latvian credit institutions by euro area residents increased by 2.1% in April and deposits redeemable at notice by 1.4%, whereas deposits with the set maturity of up to two years dropped by 1.3%. Overall, the Latvian contribution to the euro area M3 increased by 1.5% in April, with the year-on-year growth of 10.5%. 
Year-on-year changes in some money indicators (%)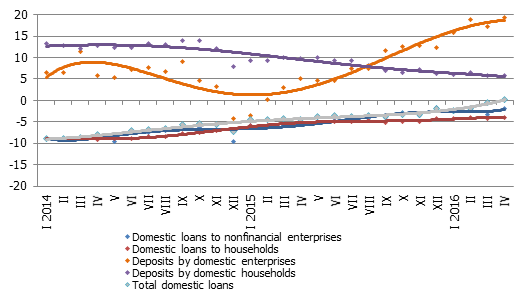 Source: Latvijas Banka
Even though fluctuations have been observed in some months in the lending dynamic, the trend is becoming increasingly clear: lending is becoming more active. Transiting from a very cautious approach to a policy of moderate rise in lending to good entrepreneurship plans and with mortgage lending recovering, there is a shift of increasingly granting new loans: in April, their amount already exceeded the amount of loans paid or written off. Such a trend is to be expected also in the future, and it will be supported both by the necessity to secure co-financing from European Union funds and the overall sentiment of market participants. Also, there is information about plans to grant several large loans to enterprises working in the areas in agriculture, industry, transportation and trade. A moderate rise in deposits by enterprises and households will also continue.
x
Textual error
«… …»
Report error to the website editor

Similar articles