Increased inflows of loans in the household sector
In October, the increase on all loans granted to households is worth noting: housing, consumer and all other loans were on the rise.  Such an increase was observed for the first time after a drop over several consecutive years. The total balance of domestic loans, however, dropped slightly in October, with business lending dropping slightly. With finances growing in the bank accounts of both non-financial companies and households, the balance of deposits attracted by banks grew.
The balance of loans granted to households increased in October by 0.3%, with loans for housing purchases increasing by 0.1%, consumer loans by 0.9% and other loans to households by 1.2%. The total domestic loan balance in October shrank by 0.1%, with loans to enterprises dropping by 0.4%. The rate of year-on-year growth of total domestic loans in October was at 1.8%, with loans to enterprises increasing by 4.9% year-on-year, and loans to households dropping by 2.3%. In October, the amount of newly granted loans (excluding reviewed loans) exceeded the indicator for the respective month of last year by 39.4% (including the loans to households by 43.5%).
The bank-attracted domestic deposits increased in October by 0.2%, with their annual growth rate at 9.5%. The deposits of nonfinancial enterprises increased by 2.8% (annual growth rate of 7.7%), and household deposits by 0.8% (annual growth rate of 7.2%).
The Latvian contribution to the euro area common indicator M3 grew moderately in October, as the overnight deposits with Latvian credit institutions by euro area residents (by 0.3%), deposits redeemable at notice (by 1.4%), and deposits with a fixed maturity of up to two years (by 0.6%) all grew. In total, Latvia's contribution to the euro area M3 grew by 0.3%, with the year-on-year growth at 9.3%.
Y-y changes in some money indicators (%)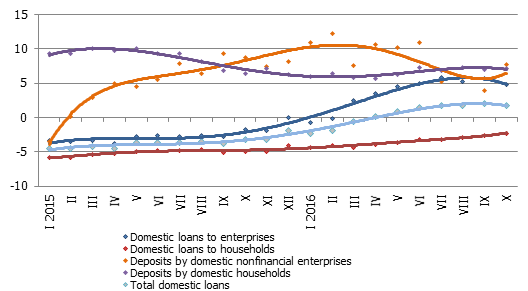 Source: Latvijas Banka
The increasingly vigorous redirection of loans to households is evidence that the housing guarantee programme for families with children, in effect for the second year, is beginning to bear fruit. Moreover, the confidence of households in the stability of their income and their growing savings stimulate the demand for household loans also on the part of other groups of residents; consumer loans are also becoming more accessible. The continued supportive monetary policy of the Eurosystem will promote the positive lending trends. With economic growth rate remaining positive,  the dynamic of rising deposits will not change, as for some time now, it has been characterized both by the pronouncedly stable 9-10% year-on-year rise in deposits and particularly  Latvia's contribution to the money indicator M3.
x
Textual error
«… …»
Report error to the website editor

Similar articles