Euro changeover substantially increases the use of non-cash
January was the first month spent with the euro and it has confirmed the previously expected trend: euro introduction has also marked a transition to more active use of non-cash. The bulk of household and business accruals that ended up in bank accounts in December remained there in January, demonstrating that cash currency is losing its previously important role in settlements.
The deposits of businesses and households slightly decreased seasonally in January but remained substantially above the November level. Household deposits dropped only by 1.4% in a month (in December they rose by 6.3%), with the rate of annual rise remaining at 13.2%, and business deposits dropped by 4.1% (the rise in December was 11.2%) and their year-on-year growth rate was at 6.2% (2.6% in November).
In January, banks' total loan portfolio dropped by 3.5%, but two thirds of the drop were determined by structural changes: VAS "Latvijas Hipotēku un zemes banka" and AS "UniCredit Bank" gave up their credit institution licences as of January. The annual rate of drop in loans in January reached 9.4%, but, with the data of licence waiving banks excluded, the date of annual decrease was only 3.4%.
Illustration. Year-on-year change in some money indicators (%)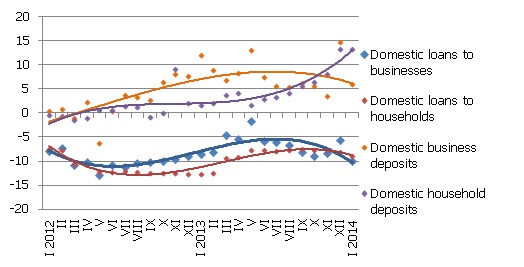 Source: Latvijas Banka
With the external demand stabilizing and positive economic growth continuing, both business and household deposits with credit institutions will continue to grow in 2014, but at a slower rate. The dynamic of lending will be determined by the development trends with the loans granted to businesses, whereas the household sector will continue to refrain from assuming new liabilities and their debt level will gradually drop. Even though the total bank loan portfolio will continue to shrink, the statements of some larger banks indicate that the exporting businesses, merchants, and service providers could be a creditworthy segment. Overall, however, the growth of the loan portfolio could resume in the next couple of years. 
x
Textual error
«… …»
Report error to the website editor

Similar articles