Domestic deposits have resumed growth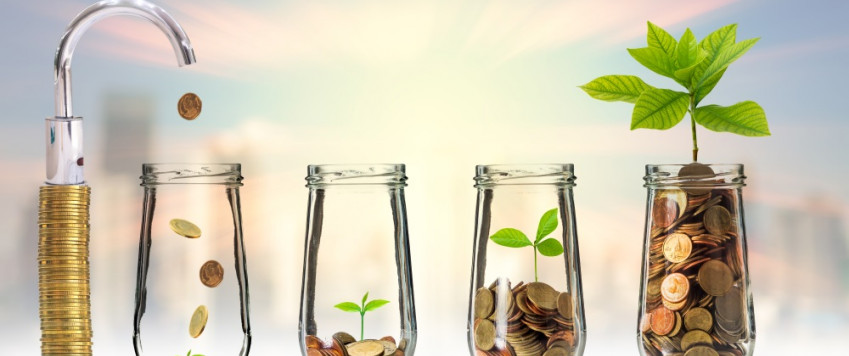 In March, both businesses and households increased their domestic deposits, with the annual growth rate moving up by 0.9 percentage point to reach 3.7%. The domestic loan portfolio has remained broadly unchanged already for the third consecutive month, with loans to businesses edging up by 0.1% and household loans contracting by 0.2%.
Domestic deposits with banks expanded by 0.5% in March, including increases of 1.1% and 0.5% in deposits of non-financial corporations and households respectively, with their annual growth rates being 1.7% and 7.9%.
In March, the annual rate of change in Latvia's contribution to the monetary aggregate M3 of the euro area was 4.5%, including the annual rates of change of 5.5%, 8.2% and –4.8% in overnight deposits of euro area residents placed with Latvia's MFIs, in deposits redeemable at notice, and in deposits with an agreed maturity of up to two years respectively.
The annual rate of decrease in the domestic loan portfolio reached 2.9% in March, inter alia with the annual change in the loan portfolio of households remaining the same at –1.1%, but that of non-financial corporations standing at
–8.8%. New loans to both non-financial corporations and households posted slightly higher levels than in February, albeit did not reach the amounts recorded in March 2017.
Annual changes in domestic deposits (%)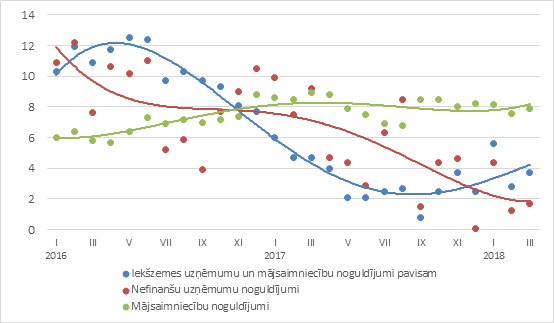 Source: Latvijas Banka
Lending recovery is still slower than expected; nevertheless, the economic development requires financing. The results of the euro area bank lending survey conducted in April suggest positive trends in the demand for loans. According to respondents, this year demand for loans both by enterprises and households increased in the first quarter and a rise in demand is expected also in the second quarter. The survey conducted by the Development Finance Institution ALTUM suggests that approximately 7 billion euro will be required to implement the development plans of Latvian companies in the next three years. However, businesses are not active enough in seeking funding; quite often they even do not turn to banks, though admitting that they need funding. Despite the fact that part of credit institutions are reluctant lenders due to the current financial sector turbulences, more active participation of the major players in the domestic market would definitely be necessary. 
x
Textual error
«… …»
Report error to the website editor