Domestic demand continues to propel imports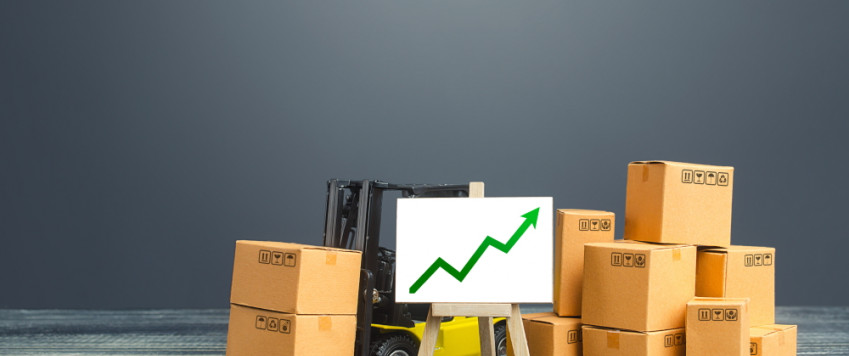 The recovery observed in the third quarter of 2021 following the worst surge of the Covid-19 pandemic has also affected Latvia's balance of payments.
A strong rebound in private consumption during the summer months when the pandemic eased has supported imports, propelling the growth of import volume in the third quarter even slightly above the high levels of the second quarter. After a couple of stagnating quarters, exports of goods have also returned as a growth supporting factor. The export value of goods in nominal terms was further boosted also by the steadily rising product prices, particularly strong in the case of the articles of wood which remained the biggest source of income, yet the export value of the articles of base metals was also growing fast. Moreover, with the start of the active season, the export value of agricultural products exceeded that of the third quarter of last year, despite the real volumes of grain exports being lower than last year during the first months of the season. Dynamic development of various business as well as information and communication technology services continued to dominate exports of services. Nevertheless, the return of the services exports in general to the pre-pandemic levels was delayed by the stagnating tourism, with both numbers of visitors and the length of stay declining even compared to the modest levels of last year.
Despite decelerating investment and some unwinding of inventories in the third quarter of 2021, the import values in raw materials commodity groups continued to grow steadily. The factor of prices had a major role to play here as well, with the import growth being driven by the imports of mineral products, base metals and articles of base metals, and wood. Purchases of medical products and diagnostic supplies abroad also had a significant contribution. The role of modern business services in services exports developed rapidly. The use of cargo transportation services to carry export goods also expanded and travel abroad increased.
With imports of goods remaining high, the deficit of the goods and services trade balance in the third quarter remained broadly unchanged from the previous quarter at 4.2% of gross domestic product (GDP). At the same time, combined with the income account deficit of 1.5% of GDP, it resulted in a current account deficit of 5.7% of GDP in the third quarter of 2021. The main contributor to the income account deficit is foreign investors' profit which has effectively returned to its pre-pandemic levels.
Chart. Main components of the current account (% of GDP)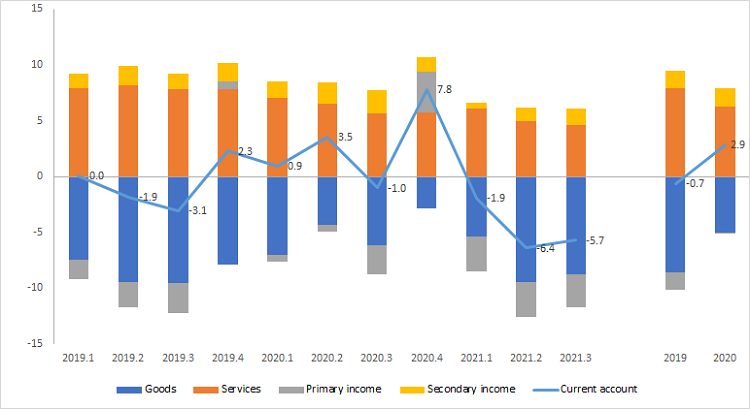 The largest flows in the financial account in the third quarter were associated with government borrowing and financing of international transactions of non-financial corporations. Foreign direct investment also continued to grow strongly in the third quarter (5.0% of GDP). The strongest investment growth was observed in the wholesale and retail trade sector.
x
Textual error
«… …»
Report error to the website editor