Deposit growth in banks has resumed
After dropping for three months, the total amount of business and household deposits in June was on the rise again. The rate of year-on-year rise in domestic deposits also rose reaching 9.9%. On the other hand,  the balance of loans granted by banks continued to shrink in June, with the loans granted to non-financial corporations and households continuing to drop but the year-on-year rate of decrease improving substantially (by 1.2 percentage points, to 7.1%).
Business and household deposits in June grew by 0.7%, with the deposits of households and private enterprises with banks increasing by 1.3% and 0.3% respectively. The rate of growth in household deposits in June was 12.4% and the corresponding indicator for private enterprise deposits was 10.2%.
As for the changes in the contribution of Latvia in the indicator M3 common for the euro area, deposits of euro area residents with Latvian credit institutions increased by 1.2% in June and deposits redeemable at notice grew by 3.4%, whereas deposits with a  set maturity of up to two years dropped by 3.2%. With the amount of cash in circulation also growing, the total impact of Latvia on the euro area money supply was positive.
In June, the portfolio of domestic loans granted to businesses shrank by 0.5% and loans granted to households by 0.6%, whereas lending to financial intermediaries grew for a fourth consecutive month. The year-on-year decrease rate indicator for loans granted to businesses in June was 5.7% and for loans granted to businesses 8.8%.
Illustration. Year-on-year changes in some money indicators (%)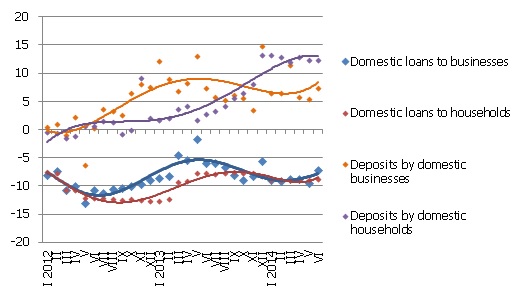 Source: Latvijas Banka
The moderate export growth, along with the stability of domestic consumption, will continue to promote a rise in business deposits, without affecting the accrual levels of households to any substantial degree. Thus the deposits attracted by banks will undergo stable growth, albeit a drop is possible in some months. The reaction of Latvian banks to the decision of the European Central Bank to set negative interest rates on deposits with the euro area central banks did not indicate a change in lending trends in the first month after this decision took effect, with disposable means being placed with foreign banks and invested in government and private debt securities instead of lending to the real economy. Yet in the longer perspective, as the banks weigh profits and risks, more activity in lending to businesses seems more likely.
x
Textual error
«… …»
Report error to the website editor

Similar articles