Caution to determine the situation in retail trade to the end of the year
The retail turnover in July (in comparative prices, excluding seasonal factors) dropped 0.5% month-on-month, thus contributing to the slow and uneven development. In contrast to the previous months, this time growth, by 2.1%, was observed in the food items group, whereas the demand for non-food items dropped 1.8%.
Since early spring, growth has been observed in automobile sales, which are accounted for apart from retail trade. As a result, an overall increase in retail trade and automobile sales has been posted for July (See Fig. 1). Indicative of automobiles sales is the Road Traffic Safety Department (CSDD) statistics on the number of cars registered for the first-time, which in July increased both year-on-year and month-on-month. It is obvious, however, that the monthly increase has moderated somewhat: the seasonally adjusted rate of increase was 4.8% after an average 9.2% in April - June. In regard to this indicator though, one should keep in mind the low 2009 base after the very rapid drop in automobile sales in 2007-2009 (See Fig. 2).
Even though positive changes in domestic demand are taking place earlier than predicted, a new "leap" is not expected at the moment. Renewed demand will be inhibited, at least to the end of the year, by the uncertainty resulting from several unknowns: the parliamentary elections in October, formation of the new government and adoption of the 2011 state budget as well as the decisions on tax policies and reduction of budgetary spending.  Households will proceed with caution in their spending until they have seen their utility bills for the new heating season and paid their real estate tax on their homes (this year's novelty) and land.  This increased caution is also indicated in part by the data on the mood of entrepreneurs and general population published by the European Commission: after gradually improving previously, the trade confidence indicator dropped by 0.7 points in July and by additional 0.2 points in August. In terms of consumer confidence, the drop of 2.0 points in July was followed by a 2.7 point improvement in August.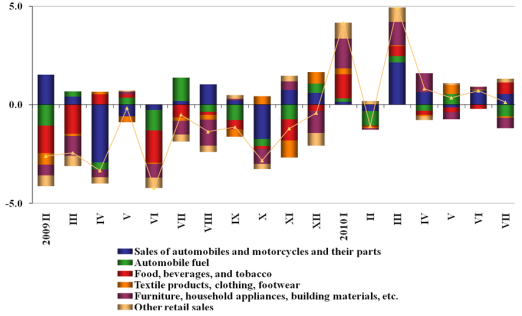 Figure 1. Contribution to the real month-on-month retail trade increase, % points, seasonally adjusted data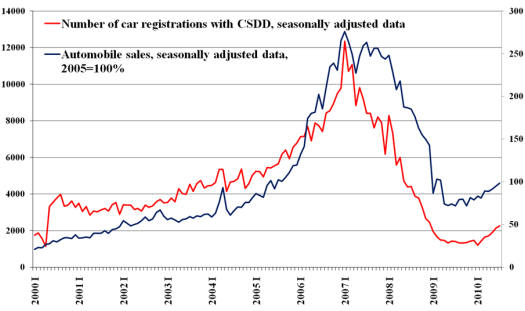 Figure 2. The number of automobile first-time registrations with CSDD and automobile sales
x
Textual error
«… …»
Report error to the website editor

Similar articles