The rise in purchasing power of salaries will promote private consumption
The slight increase in the rate of the annual growth of average salary in the second quarter (to 4.7% for the nominal gross salary and to 5.2% for the real net salary) is another indication of economic recovery. The increase has taken place mostly on account of the private sector, which has been ensuring a rather rapid increase in employment rate for three years in a row.
In line with our predictions, the average monthly salary before taxes for full time work has exceeded the 500 lats reached in the pre-crisis period. The amount of goods and services obtainable for net salary, i.e. the purchasing power of the salary, lags behind the pre-crisis level only by a few lats and is going to reach it already in 2014. It is important to note that the current rise in salaries, as opposed to what was experienced during the "bubble" period, is sustainable and based on productivity: it does not create the risks of a rapid rise in inflation and a drop in competitiveness.  
In this period of uncertain external demand and problems with "Liepājas metalurgs", private consumption has become the main driver of gross domestic product (GDP). Even though some contribution may have been made by the reduction of precautionary savings, in its turn, retail trade is additionally influenced by the expenditures of Russian tourists, the main factor is indisputably the rises in salaries and employment.
In a small and open economy, the ability of private consumption to sustain the most rapid growth in GDP among the 28 EU member states is not endless, yet the data on second quarter salaries permit us to expect a pronouncedly upward dynamic of retail trade and private consumption in the coming months as well.  
Figure. Index of real private consumption and net salary fund (Q1 2005 = 100)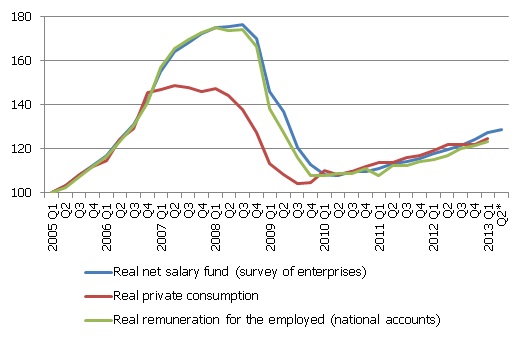 Source: CSB data, author's calculations
*2013.Q2forecasted value, based on today's salary data. 
x
Textual error
«… …»
Report error to the website editor

Similar articles