Retail continues to grow yet retailers' outlook dampens
The retail turnover in August (seasonally adjusted data at constant prices) grew 1.6% month-on-month.
For a fourth consecutive month, retail turnover has demonstrated a remarkable increase. Yet it would be premature to turn to copy-paste style commentaries, since the relatively stable increase in the demand for non-food commodities, food continues to fluctuate, demonstrating a very rapid rise in July (4.3%) and dropping in August (1.2%).
This time automobile sales, which is accounted for outside retail turnover, indicated a weaker performance. On the one hand, that dampens any optimism regarding a rapid growth in trade (the common indicator points to a mere 0.4% growth), on the other hand, it gives rise to hope that the necessary renewal of the transportation fleets has concluded and in the rise in import volumes will moderate, improving the foreign trade balance.
Compared to last July, the retail turnover has grown by 7.4%, with only the poor results of automobile fuel sales acting as downward pressure. Of course, this is the very group of commodities that most clearly demonstrates the visible (i.e. accounted for in official statistics) and invisible parts of sales volumes. This aspect makes a correct evaluation of consumption dynamics difficult, for it is very complicated to evaluate the changes in this part of the gray economy, particularly in the short term.
The September consumer confidence and retail trade confidence indicators disseminated by the European Commission yesterday still record an upward pointing dynamic for Latvia despite deteriorating figures for almost all European countries. This improvement is primarily accounted for by an improvement in the Purchasing Managers Index. Service providers and consumers also have a more positive evaluation of both their own and national financial and economic situation. It is interesting to note, however, that the retail trade confidence indicator has deteriorated for a third consecutive month, which to a certain degree contradicts the trends in the changes of real retail sales volumes.
There is no convincing explanation as of yet. Retailers may be more cautious in their outlook because it was they who during the crisis experienced one of the most dramatic drops compared to other branches. There may also be differences between the survey respondents and the submitters of statistical reports, for the results of enterprises are not exactly uniform. They can be influenced by many factors, e.g., the purchase prices of sold production and tax rates as well as re-exports with the result that sales volumes are determined not only by domestic but also external demand. Tourist activities, which are winding down with the end of the season may also have some impact. It can only be hoped that subsequent processes will shed more light on this issue.
Retail turnover (2005 average=100%, comparative prices, seas. adj.) and confidence indicators (response balance)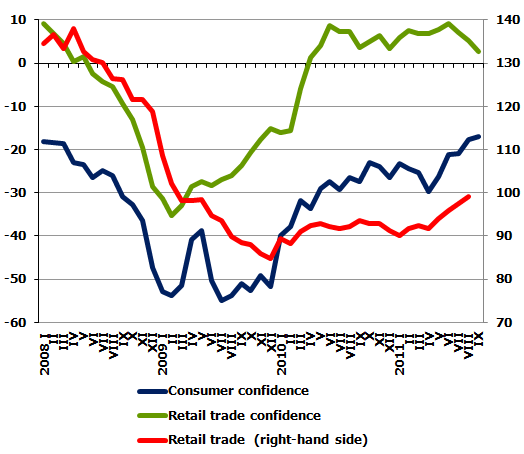 x
Textual error
«… …»
Report error to the website editor

Similar articles