Is Latvia's residential construction ready to pick up?
For Latvijas Banka Monthly Newsletter, In Focus, May, 2018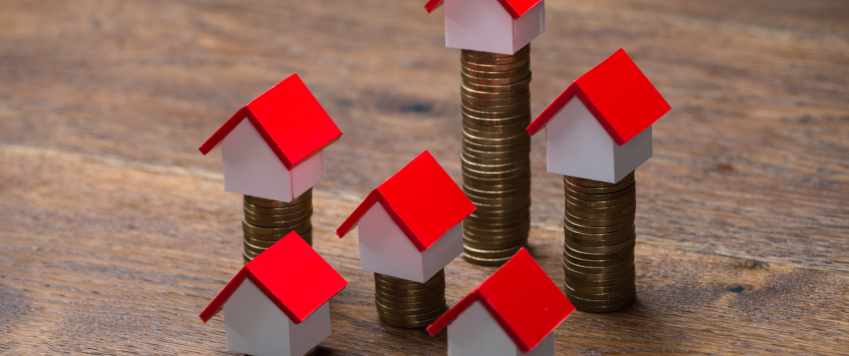 In recent years, dwelling construction in Latvia has lagged behind that of its Baltic neighbours. Increasing income in Latvia and comparatively poor housing conditions point to unsatisfied demand for higher quality apartments.
Over the past years, housing prices in Latvia have been on a steady rise. They,  compared to its Baltic peers, have increased faster than in Lithuania but have trailed behind Estonia since 2010. It is only in Estonia that prices have exceeded the highs of 2007–2008. The current housing price levels are lower in other Baltic countries, especially in Latvia.
However, the prices of newly-built dwellings in Latvia have already reached the pre-crisis levels. According to price information provided by real estate companies, market prices for new dwellings in Riga lag behind those in Tallinn but exceed those in Vilnius where the construction of budget class apartments is more active. A faster pace of price growth in Latvia that continued until the third quarter of 2014 has been attributed to the increased demand from residence permit seekers for real estate investment in exchange for residence permits.
Chart 1. Quarterly price index (new dwellings)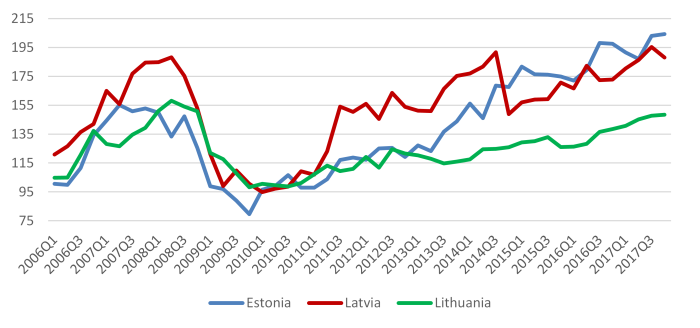 The non-resident demand sparked construction in the high price segment up to the end of 2014, but overall Latvia has been lagging behind its neighbours in dwelling construction investment in the post-crisis period. Thus, the supply of new apartments has been limited, and the potential home buyers have been put in a price taker position, backing the resumption of house price growth since 2015. The largely overlooked demand for budget class dwellings has put upward pressure on prices of the soviet-time apartments as well.
Chart 2. Number of dwellings built per 1000 inhabitants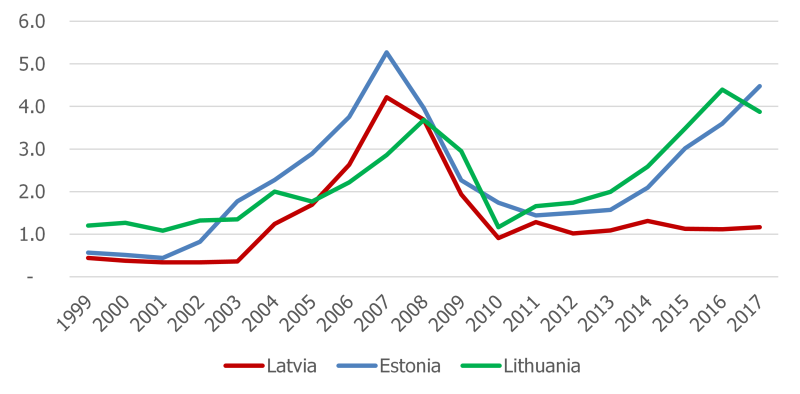 Lack of investment, especially in the post-crisis period, has left Latvia with the highest proportion of soviet-time buildings in the housing stock among Baltic countries. Quite expectedly, the reported condition of dwellings is also the lowest in Latvia with higher overcrowding rate and lower overall housing quality.
However, the rising income in Latvia provides an opportunity for people to improve their living conditions.  In addition, the state support programme for house purchase for families with children is being implemented by the Development Finance Institution ALTUM since 2015. In 2018, this programme has been complemented by the inclusion of young professionals as well. The support programme is aimed at helping the above families and professionals to purchase their first housing (state-backed loan for making a reduced first down payment). This measure helps to stoke new mortgage lending, which has started to pick up in the last couple of years. Developers recognise the potential of residential construction, particularly in the budget class dwelling segment. This is evidenced by the rising number of construction permits issued for the construction of multi-apartment buildings since 2016.
x
Textual error
«… …»
Report error to the website editor

Similar articles