Gross domestic product growth persists in spite of global economic developments
According to a flash estimate by the Central Statistical Agency, gross domestic product in the first quarter of 2012, grew 1.0% quarter-on-quarter (seasonally adjusted data at constant prices). The year-on-year growth rate  reached  6.8%. Such growth rates (both quarterly and annual) at the beginning of the year are likely to be among the fastest in the European Union. The Latvian economy has thus been growing for a tenth consecutive quarter.  
The previously expressed worries about dropping growth rates have yet to materialize and the operational statistical data periodically signalled robust GDP growth: the successful functioning of manufacturing (3.5% quarter-on-quarter), trade turnover growth (+3.4%), new records in terms of cargo handling volumes in Latvia's ports and railroad terminals. The increase in tax revenues in the first quarter also pointed to continued economic growth.
Of course, the worry over the possible drop in growth rates have not disappeared: primarily because of developments elsewhere in Europe, the question is only when we are likely to begin to feel the impact of European developments on the Latvia economy. April saw a substantial deterioration in the Purchasing Managers Indexes and confidence indicators in many European countries (Poland, Spain, the Czech Republic, Italy, Germany etc.). After a long period of stability the Latvian manufacturing confidence indicator also fell substantially, primarily on account of future oriented components (evaluation of order volumes and future output volumes). Conversations with representatives of the manufacturing industry also point to signs that a moderate drop in growth rates is likely at least in the second quarter of this year.
At the same time, there is the possibility that GDP growth will be robust in the coming quarters as well:  2012 and 2013 are the last in this EU fund planning period: the pace of uptake of investments tends to pick up at the end of planning periods. Thus this year and next year a series of investment projects is planned (road reconstruction, various energy projects, projects involving investments in the transportation branch and manufacturing), which will have a positive impact both in the short run, in terms of investment and construction activity and in the long run, as returns on the use of new capacities resulting from these investments.  
More complete statistics that will accord a clearer picture of the growth stimulating and growth impeding factors – the percentage of exports and contribution of the domestic market; the relevant branches in the usage components – will be published by the Central Statistical Bureau on 8 June.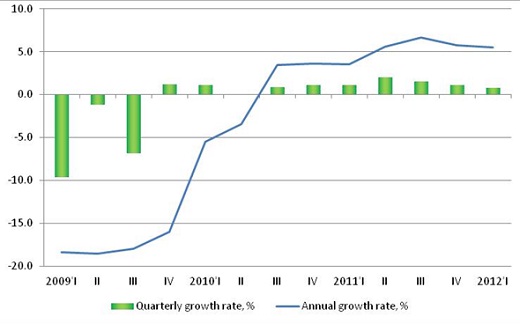 Fig. 1.Dynamic of Latvian GDP
x
Textual error
«… …»
Report error to the website editor

Similar articles