A déjà vu in manufacturing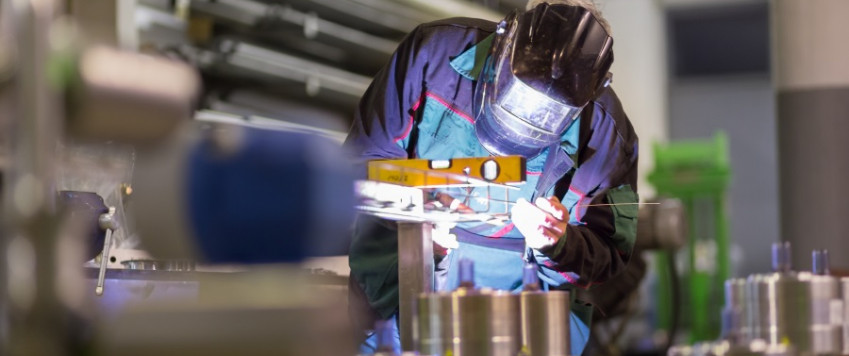 Manufacturing continued to develop dynamically in the third quarter on account of both increasing export volumes and growing demand on the domestic market.
The sector is challenged by growing shortage of labour. Capacity utilisation has reached a historical high in some sub-sectors and businesses need to step up investment in order to maintain competitiveness. Some developments or aspects create a feeling that we have already experienced all of this before or we are seeing a déjà vu, as the French say.
As already suggested by preliminary data and the flash estimate of GDP, manufacturing output increased substantially in the third quarter: by 1.2% quarter-on-quarter (in seasonally adjusted terms) and by 9.3% year-on-year (in calendar adjusted terms).
Development was supported by both higher external demand as well as, to an increasingly greater extent, growing domestic demand. This is particularly obvious when looking at the inputs required by the robustly growing construction sector: wood, non-metallic mineral products (all combined under the title of "building materials" in the Charts), metal structures, various building materials produced by the sub-sectors manufacturing chemicals, rubber and plastics products.
At the same time, external markets have been mostly interested in food, chemical products, electrical equipment, fabricated metal products, transport vehicles and their components, pharmaceutical preparations produced in Latvia. Although the overall industrial data does not provide a separate figure for this particular sub-sector, the public information provided by businesses suggests that the financial performance of JSC Grindeks and JSC Olainfarm, the major players of the pharmaceutical industry, has been quite impressive this year.
Despite excellent overall data on the manufacturing sector output, the situation in the sub-sectors, however, is far from identical and each is facing its own challenges. Many have problems with shortage of labour, downtime caused by persistent rain (for example, at sawmills), tax regulation, rising commodity prices, difficulties in certain export markets etc. All that affects both the actual data and the forecasts of the future transactions as well as the overall industrial sentiment.
Confidence indicators for the fourth quarter were published today (surveys are carried out in the first month of the quarter, i.e. October in this case). What do they tell us? Industrial confidence is strengthening its positions within the range of positive replies.
Moreover, for the first time in the history of measuring confidence, the most frequent reply to the question on factors limiting production was that there were none.
The survey suggests that the demand-related problems have gradually lost their dominance, yet shortage of labour is becoming increasingly more acute and the situation has particularly worsened in 2017. This is like a moderate déjà vu on the labour market, bringing us back to the first steps of the so-called fat years in 2004–2005.
It is yet another confirmation to what has been highlighted in the public rhetoric of Latvijas Banka already for quite some time: we see a renewed pressure on wages in the economy and productivity growth is unable to keep up. In manufacturing, the gap between productivity and wages is not that wide, yet the overall situation has its toll on manufacturing as well. With the labour market continuing to tighten, costs could increase substantially, resulting in a loss of competitiveness on export markets.
Unfortunately, the level of investment in manufacturing is comparatively low. Truth being said, some potential investors could be holding back until the moment when reinvested earnings are no longer subject to corporate income tax. At the same time, capacity utilisation in some sub-sectors is at its historical high or approaching. A particularly high level of capacity utilisation has been reached in woodworking, manufacture of pharmaceutical products as well as transport vehicles and their components. Therefore, investment in the productive sector and human capital (education, health) is becoming increasingly more important.
Volume indices of manufacturing sub-sectors in Q3 2017 (%; year-on-year; calendar-adjusted data; output weights in %)

Factors limiting production (%)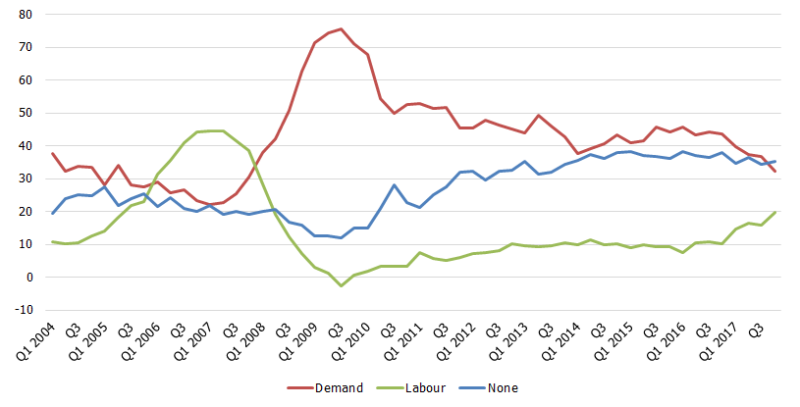 Capacity utilisation in manufacturing sub-sectors in the fourth quarter of 2017 and variations since 2014 (%; output weights in %)

x
Textual error
«… …»
Report error to the website editor