Consumers show caution, retail performance unconvincing in March
After the turning point in February, when growth finally followed the downturn of previous months, the March results were awaited with some impatience. The retail turnover (seasonally adjusted data at constant prices) in March grew moderately (0.6%) month-on-month. That may allay the suspicion that February's rise was an exception and downturn was to continue. Yet this time automobile sales, which is accounted for outside retail turnover, indicated a weaker performance, at -5.0%, after the very sharp rises in previous months. In view of this, retail turnover, if automobile sales are included, was down 0.7% compared to February.
The largest group of goods, food products, which account for 26-27% of total sales, shows a rise of 0.8%. Automobile fuel, by contrast, maintains a downward trend explained by price rises and also probably by the increase in the gray economy share.
Regarding year-on-year comparisons, the growth rate has dropped almost to neutral at a mere 1.3%: thus sales have remained almost the same. The drop in the growth rate is primarily on account of the base effect: in spring of last year the retail growth was more rapid, which, along with the downturn that followed later, no longer allows for any pride in better annual growth rate. For retail with automobile sales included, the annual rate, albeit no longer at two digits, remained high at 8.9% on account of the rapid rise observed earlier.
Cautious spending on the part of the population and rises in the rates of taxation hardly form a background conducive to increased sales and in this respect there is really no news – trade will maintain a slow and fluctuating growth this year. The April confidence indicators disseminated by the European Commission today are hardly a cause for optimism: the consumer confidence index has dropped 4.4 and retail trade confidence indicator 0.1 points month-on-month.
Groups of retail goods compared to December 2009, at average prices of 2005, change in mil. of lats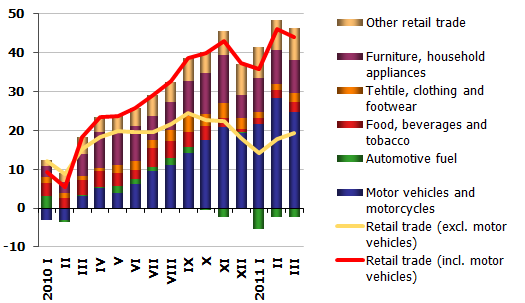 x
Textual error
«… …»
Report error to the website editor

Similar articles